A landmark report by the National Academies of Science, Engineering, and Medicine (NASEM) out Tuesday details the wide extent of sexual harassment, bullying, and ostracization of women within the scientific world. It also offers a series of proactive, far-reaching recommendations to combat its further spread.
Though especially poignant in the era of the #Metoo movement, the report's work actually began in late 2016. NASEM brought together a committee of university researchers and policy experts to examine the literature surrounding sexual harassment in academia. They also conducted workshops and interviewed 40 individuals about their experiences in both dealing with and reporting harassment.
Among the hard lessons reaffirmed was just how pervasive harassment is. A recent survey of undergraduate and graduate students attending the University of Texas system, for instance, found that 20 percent of female science students, more than 25 percent of female engineering students, and 40 percent of female medical students had recently encountered harassment. Another study cited by the report estimated that 58 percent of women faculty and staff across all fields of academia have experienced harassment, a percentage second only to the United States military.
But the report also highlighted that women scientists much more often experience subtler forms of gendered harassment, whether it's stigmatization of working mothers, bullying of junior colleagues by senior male scientists, or having to see their co-workers post nude images at work or the lab.
Above all, it found the single largest factor in whether harassment happens and whether harassers get reprimanded if caught is the climate surrounding the workplace. "In environments that are perceived as more tolerant or permissive of sexual harassment, women are more likely to have been directly harassed and to witness harassment of others," the authors wrote.
G/O Media may get a commission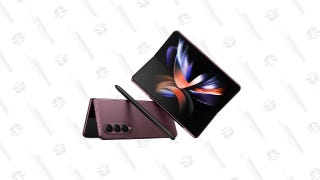 Save Up to $300
Galaxy Z Fold4
To that end, the report issues 14 recommendations to universities and research labs, federal agencies tasking with funding research, and professional societies.
One recommendation calls for increasing the transparency and accountability of harassment investigations, such as by tying the allocation of federal funding to whether universities create and constantly update a database of harassment reports. Universities and research labs should also provide better support for the targets of sexual harassment, which would include a clear, structured reporting system, NASEM's report said. At the same time, universities should also find other ways to record experiences when women aren't comfortable or willing enough to file a formal report. And professional societies should formerly codify gendered harassment as a serious form of research misconduct on the level of plagiarism or research fraud (some already have).
Meanwhile, interventions such as "sexual harassment training" have been shown to do little to tamp down harassment, so more research is needed to figure out what actually works. Other interventions that have shown promise, such as bystander training that focuses on concrete actions witnesses of harassment can take, should be encouraged, the authors said.
"The NASEM study is a good step forward, especially toward providing concrete actions for departments and institutions to take, because many of them can barely muster 'cover your butt' policies to reduce their liabilities," Alessondra Springmann, a planetary scientist at the University of Arizona, told Gizmodo.
At the same time, Springmann lamented the relative lack of focus on women of color in STEM, as well as disabled and LGBTQ women in the study, noting these groups experience harassment and hurdles to reporting to a greater degree than white women generally do.
And like other scientists, Springman was also critical of how the the National Academies itself—a government-funded, but independently run organization that offers advice on national public health policy—has approached harassment within its own ranks.
Scientists have lambasted NASEM for being slow to revoke the membership of prestigious scientists who have been found guilty of harassment or worse by their institutions and the legal system, even going so far as to start a Change.org petition over it last May. (The petition now has over 3,500 signatures.)
"When will the NASEM begin removing known harassers from their membership? Doing so wound send a strong signal to institutions around the country and world about ways to move forward, and how established harassers won't be tolerated," Springmann said.
The NASEM has stated that it would revisit its membership policy in the near future, but that any changes would require time since they need to be put to a majority vote by all 2,400 of its members. A representative for NASEM said Tuesday, during a conference announcing the report, that the organization is seeking temporary solutions that might allow for a speedier process.
[NASEM]
This post has been updated.