Ryan Reynolds says Deadpool will be more hardcore than the comic. The Crow loses a director, while Paul Giamatti joins a new supernatural-drug film. Torchwood's new characters revealed! Plus Green Lantern hints, Tron Legacy poster, and new details for Outcasts.
Deadly Mississippi Tornado Kills More Than 2 Dozen | Extreme Earth

Deadpool:
Talking to Total Film magazine, Ryan Reynolds reiterates that this film will have no connection to X-Men Origins: Wolverine, and he says this film will be surprisingly hardcore:
The script is going to be a little harder [than the comic]. If you were going to assign a rating, the comic books are PG-13, the script right now is walking a tightrope between that and an R-rating.
He also calls the film a "nasty piece of work" in which the fourth wall is broken constantly. And I'm not sure if it's Reynolds saying that Blind Al and Weasel will be in the movie, or if that's just Total Film's speculation. [Scans via Ryan Reynolds Fan]
The Crow:
Now that Mark Wahlberg is reportedly in line to star in this remake, director Stephen Norrington has left the project. But it doesn't sound like the two events are connected — Norrington hinted that there was another actor in line to star in the film, who was enthusiastic about Norrington's approach but then hated the script written by Nick Cave with Norrington's input. So it's not clear what the status of this film is now. [Mania]
G/O Media may get a commission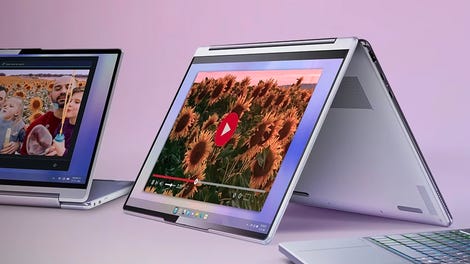 up to 70% off
Lenovo Spring Clearance
X-Men: First Class:
Jerry Bruckheimer tweeted that this film is filming at Pinewood Studios, and he occasionally sees "weird creature appendages being carried around." [Slashfilm]
Green Lantern:
IGN was one of the sites that visited this film's set back in August, and they've posted a brief preview. Among other things: the film will have a prologue of some sort. The film follows the storyline of Geoff Johns' "Secret Origin" comic pretty closely, with a few noticeable changes, some of which work better than others. The middle section of the movie, featuring tons of Green Lantern action and our first visit to Oa, will be the most exciting part of the film. And a lot of your favorite Lanterns, besides the already confirmed Tomar-Re and Kilowog, will be there. [IGN]
Tron Legacy:
Here's a preview of the official Daft Punk poster, which you'll be able to get if you preorder the deluxe version of the movie's soundtrack. Check out another view of Daft Punk in their Tron-ish outfits — the white areas glow in the dark. [Tron Soundtrack via Slashfilm]


Skyline:
Check out some new promo pics, that are pretty similar to ones you've seen before. [IGN]


John Dies At The End:
Some casting news for this movie adaptation of David Wong's novel about two young losers who gain extra sensory perception after they take a mysterious drug called "soy sauce." The two losers will be played by newcomers Chase Williamson and Rob Mayes. And Paul Giamatti plays a reporter one of the two lead characters tells his story to. Meanwhile, Clancy Brown plays an expert on the supernatural, who actually knows what he's doing, unlike the two clueless main characters. Don Coscarelli is directing, and Giamatti is one of the producers. [AICN]
Jack The Giant Killer:
Bryan Singer finally has a green light for this "dark reteling" of the Jack and the Beanstalk story, based on a script rewritten by The Usual Suspects scribe Chris McQuarrie. A bunch of actors are competing for the lead role, but right now the top contender is Aaron "Kick-Ass" Johnson. [Deadline]
Torchwood:
The latest issue of Doctor Who Magazine includes some new character details, confirming some reports we saw a while back. One of our two CIA agent characters, Esther Katusi, is a devout Christian who has a great deal of faith in the human race. And she's in love with her fellow CIA agent, Rex Matheson. Also, it's really true that another major character, Oswald Jones, will be a convicted pedophile and murderer, who regrets his past but is still "dangerous and clever." Oswald is "fated to become the center of terrifying events." There's also another character involved, Dr. Vera Juarez. [Den Of Geek]
Doctor Who:
We already showed you some set pics of Mark Sheppard on the set, menacing Alex Kingston — and showing no signs of jet-lag from having rushed over there to join the cast. Now, here's your first set video. [KSiteTV]

Fringe:
Here's a new extended cast interview from City TV. [Zona Fringe]

Outcasts:
We're ridiculously excited about this new BBC/BBC America show about settlers colonizing an alien world after Earth is no longer habitable. Collider has a new interview with creator Ben Richards, who goes into tons of details. He describes the main characters:
The way that we set it up, we have the President of the settlement, called President Tate, who's played by Liam Cunningham, and he's the really serious figure. He believes wholeheartedly in his vision of the future, which is logical, rational and all about the survival of the human species, and about planning in a communitarian, fair, egalitarian way. He's set up against Julius Berger, who arrives in Episode 2 and who's played by Eric Mabius. The battle for whose vision wins in Carpathia is the main spine of Series 1. Then, because it's a show that is also about the security of the settlement, we have a team, called Protection and Security, who look after the protection and security of the settlement, and that's headed by Stella Isen, who's played by Hermione Norris. Under her, she has two younger officers, called Cass Cromwell (Daniel Mays) and Fleur Morgan (Amy Manson).

So, it's this interplay between the security of the settlement and the politics of the settlement. In very, very crude terms, you've got Tate and Stella, who are the mom and dad of the show, so to speak, and then the younger guys are Cass and Fleur, and on the side, coming in to blow this all out of the water, is Julius Berger. In Episode 1, you have Mitchell Hoban, who's played by Jamie Bamber from Battlestar Galactica, who's a very angry man, unhappy with the way things are going. His sidekick is Jack, who is played by Ashley Walters, who used to be in the So Solid Crew, a British hip-hop band. He's military power and the force of the Expeditionaries, when they go out to explore the planet. They're an armed defense. There are basically six main characters – President Tate, Stella, Cass, Fleur, Jack and Julius.
Tons more details at the link. [Collider]
V:
Here are some set pics of the new season's filming in Vancouver, featuring Elizabeth Mitchell in action. [Flickr via SpoilerTV]


Chuck:
Here's a behind the scenes clip of Monday's "Chuck Vs. The Aisle Of Terror":
Click to view

Something called "The Singoff" will replace Chuck and The Event all throughout the month of December. Not sure if this is a new kind of baseball, or something else. [SpoilerTV]
Smallville:
Here's the synopsis for Nov 12's episode, "Abandoned":
TERI HATCHER GUEST STARS AS ELLA LANE; DC COMICS' CHARACTERS GRANNY GOODNESS (CHRISTINE WILLES) AND HARRIET (GUEST STAR LINDSAY HARTLEY) APPEAR - Lois (Erica Durance) finds a video made for her by her mother, Ella Lane (Hatcher), before she died. After watching the tape, Lois makes a drastic decision about her relationship with Clark (Tom Welling) that takes her to the Fortress, where she comes face to face with Jor-El and Lara... Meanwhile , Tess has a nightmare involving herself as a child and a music box. Upon awakening, she finds the music box in Luthor mansion and sets out to find out who planted it there. Clark accompanies her to an orphanage run by Granny Goodness (guest star Christine Willes) who may not have the young girls' best intentions in mind. One of the young women living there, Harriet (guest star Hartley), finds Clark snooping around and decides to take matters into her own very sharp hands. Kevin Fair directed the episode written by Drew Landis & Julia Swift (##3X6008).
There's a new interview with Tom Welling and Erica Durance, in which they pretty much repeat stuff they've said before about how Clark and Lois are moving to the next level of their relationship. [TV Guide]
No Ordinary Family:
Here's a new clip from next week's "No Ordinary Quake." [MovieWeb]
Click to view

Supernatural:
Here's the Canadian trailer for tonight's new vampiriffic episode. [SpoilerTV]

And here's the official description for the Nov. 12 episode, "All Dogs Go To Heaven":
IT'S A DOG'S LIFE - Dean (Jensen Ackles) and Sam (Jared Padalecki) investigate what seems to be a werewolf killing but turns out to be a skinwalker (guest star Andrew Rothenberg) posing as a family dog who is taking revenge on his owner's enemies. After capturing the dog, he turns human and tells Sam and Dean that an Alpha skinwalker has created many sleeper cells that will rise on his command and kill their families. The only way to stop the mass murders is to find and kill the Alpha. Phil Sgriccia directed the episode written by Adam Glass (#608).
[KSiteTV]
Stargate Universe:
Here are some promo pics from episode 2x05, "Cloverdale." [SpoilerTV]


Additional reporting by Katharine Trendacosta.