This spring, when City Council voted to demolish the mall at South Street Seaport, they announced that current tenants would be allowed to stay until the summer's end. But many anchor stores chose to move out earlier—and two designers from Brooklyn were determined to take advantage of the abandoned store space.
Demolition on the mall is scheduled to start any day now, and most of the original stores are emptied out—including the Victoria's Secret. But where you and I might see a dismal metaphor for the perennial churn of capitalism, designer Payton Cosell Turner saw an opportunity. Turner is the founder of Flat Vernacular, a small wallpaper company that's boomed thanks to the patronage of clients like Lena Dunham.
Turner and her partner Brian Kaspr normally work from their Brooklyn studio, hand-drawing quirky designs like a glow-in-the-dark pattern and a "toile" that features broken down cars. But on Memorial Day, the duo opened up a temporary Manhattan shop inside the hollowed out shell of the South Street Seaport. According to Gothamist, it was the mall's developer—Howard Hughes Corporation—that allowed the duo to use the space for free (they only had to pay for insurance).
G/O Media may get a commission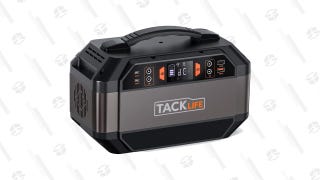 Tacklife Portable Solar Generator
Because Flat Vernacular only sells wallpaper ("Paint is boring, pattern is best!"), the interior of the three-month pop-up shop still looks fairly similar to its previous incarnation as a lingerie purveyor. The details that remain—from once-pink carpets to mirror details—serve to heighten the contrast between the store's former and current tenants. Since opening in May, the space has served as a showroom and a temporary studio, where Kaspr and Turner work and sell new products ranging from hand-lettered wallets to one-off wallpaper designs.
We've seen plenty of other artists and businesses make use of abandoned commercial spaces across the country. But Manhattan, with its booming real estate market, has been comparatively immune to the trend. Even though that's the very reason the mall is being demolished—to build a newer, higher-end mall—it's nice to know that, even for only a few months, Flat Vernacular was here. Read more about the transformation on Gothamist.
Images by Nick Stango.