DeVry University, and its parent company DeVry Education Group, have agreed to pay $100 million settlement following a Federal Trade Commission (FTC) crackdown on for-profit schools.

As one of the nation's largest for-profit schools, DeVry was targeted and sued by the FTC in January over claims that it used deceiving ads to recruit prospective students and increase profits. In its complaint against DeVry, the FTC accused the college of lying to students about the percentage of graduates that landed jobs in their field. DeVry had been advertising that 90 percent of graduates found a job in their field within six months of graduation. The claim was patently false.
Federal investigators found that the school was counting students who landed jobs outside of their field, in addition to some that already had jobs before they enrolled. In one example shown in the lawsuit, a graduate who majored in business administration with specialization in health services management was working as a server at a restaurant, but DeVry counted this as a success story.
DeVry also claimed that graduates made 15 percent higher incomes within one year after graduation. The lawsuit shows how the school used a shaky report from a third-party company that did "not provide a reasonable basis to substantiate [the school's] higher-income claim." In other words, DeVry was straight up lying to its prospective students.
G/O Media may get a commission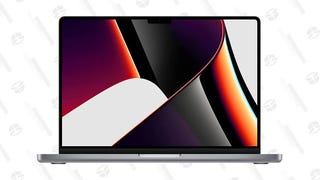 Save $300
2021 14" 1TB MacBook Pro
These type of predatory recruitment tactics are nothing new in the for-profit school industry. As Gizmodo reported in September, ITT Technical Institute (ITT)—which was forced to close as the result of a federal crackdown—had also been using false information to "get asses in classes." In an eerily similar tactic to what DeVry was caught doing, ITT loosely defined graduates working in a related field as people who spent "20-49 percent of time spent on the job using the skills taught in the core courses."
Internal documents that were surfaced during a 2012 Senate investigation of ITT found retail jobs at electronics stores were counted as working in a related field because "Blockbuster, GameStop, and other video game store employments are not black and white and require a significant amount of analysis, thought, and documentation." In other words, ITT was inflating statistics to sign up more students (and get their tuition money).
Under the settlement DeVry struck with the FTC, the school will pay
$49.4 million in cash that will be distributed to students who were harmed by the deceptive ads. The company will also pay $50.6 million in debt relief. The debt forgiveness crucially includes all private unpaid student loans that DeVry issued to undergraduates between September 2008 and September 2015, to the sum of $30.35 million. The company will also pay $20.25 million in students debts for things like tuition, books, and lab fees.
If you're one of the students that has been affected by this scam, you can visit FTC.gov/devry to learn more about the refund and debt forgiveness programs. You can also call 844-578-2645 for more information or sign up for the FTC's DeVry Refund Program emailing list.