The Department of Homeland Security says it's taking already controversial gunshot detection technology and making it portable. Though the agency hopes its newly announced mobile monitoring system could add a sense of safety and security at music venues and other live events, a privacy expert speaking with Gizmodo warned the surveillance tool could be misused.
In a press release issued over the New Years holiday, the agency said it has developed a new portable gunshot detection tool in partnership with Massachusetts-based Shooter Detection Systems capable of being moved in the field by one or two officers without the help of technicians. The new device, unenthusiastically called "SDS Outdoor," reportedly took two years to develop and builds off a previous indoor Shooter Detection System model.
In addition to its portability, the DHS says the newer model will incorporate a combination of gunshot sounds and visual flashes to attempt to detect and locate the shooter's origins. DHS claims it can deploy its new model to temporary events like open-field concerts or pop-up rallies where traditional infrastructure support isn't readily available. As part of its testing, DHS says it relied on feedback from law enforcement agencies to make the system more effective.
"Many U.S. gunshot detection technologies are not easily deployed in the field or at temporary locations," DHS Under Secretary for Science and Technology Dr. Dimitri Kusnezov said. "This mobile capability will help responders approach gun violence incidents with greater awareness, reducing response times and increasing responder safety."
Though the agency claims its combination of sound and visual detection could "drastically" reduce false positive rates compared to past gunshot detection tech, a surveillance expert speaking with Gizmodo said technology has a deep history of inaccuracy and presents a risk of misuse by law enforcement.
G/O Media may get a commission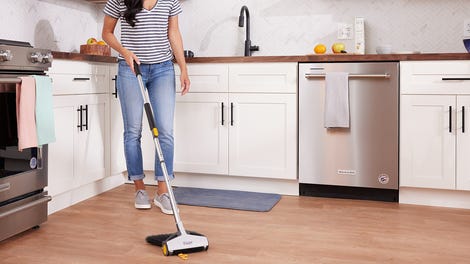 BOGO 50% Off
Flippr - BOGO 50% Off
"How many millions of dollars will we have to waste on gunshot detection tech before we recognize the approach just doesn't work," Surveillance Technology Oversight Project Executive Director Albert Fox Cahn said in an interview with Gizmodo. "Past efforts to detect gunshots in real-time have not only wasted taxpayer dollars, they've put civilians in harms way when officers are falsely told that fireworks and car backfires are active shooters."
Those past examples, notably, include efforts by the more widely known gunshot detection firm ShotSpotter. Activist groups spearheaded by MacArthur Justice Center at Northwestern University's law school have called into question gunshot detection systems' accuracy and even launched a lawsuit against Chicago police for allegedly putting "blind faith," in ShotSpotter's supposed evidence and using it to make arrests without pursuing additional leads. Others have accused gunshot detection technology of fueling race-based prejudice in policing.
ShotSpotter, in a previous statement to Gizmodo, defended its technology, claiming it has a 97% aggregate accuracy rate for real-time detection. The company said it bases its coverage areas on historical police data that show communities most impacted by gun violence and homicides.
Shooter Detection Systems did not immediately respond to Gizmodo's request for comment.
At the same time, rising murder rates, one of the primary talking points for supporters arguing in favor of expanding gunshot detection tech, appear to be cooling down, at least for now. Though homicide rates in cities spiked at record rates in 2020 and 2021, new AH Datalytics data reviewed by The New York Times found murders in large U.S. cities declined by more than 5% in 2022. The data presented annual decreases in gun deaths, injuries and mass shootings as well. While law enforcement may have less plausible violent crime to surveil, Fox Cahn said the very same technology could easily be repurposed in abusive ways that threaten civil liberties.
"And just as concerning, these systems can often be misused as illegal wiretaps, listening in on conversations within the home," Fox Cahn added. "It's frustrating that we continue to invest in these surveillance boondoggles rather than tackling the real danger that there are simply too many guns in Americans' hands."