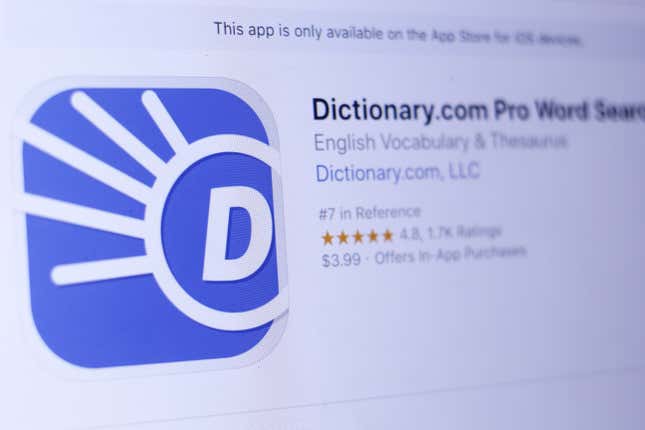 Every so often, dictionaries spruce up their database of lexicography in order to get with the times. Dictionary.com is no different, and announced this week the new additions to the website's catalog of words.

This new suite of 313 new words demonstrates, intentionally or not, the way that technology and the digital world are changing our own language. The phrase "digital nomad," for example, which describes someone who works remotely from different corners of the globe, can't exist in a world without laptops. 
Also of note is the rise in words and phrases that tend to concentrate themselves within internet-based discourse, particularly on social media. Language like "folx" and "trauma dumping" speak to left-leaning discussions around race and mental health, which are tenants of platforms like Twitter and TikTok. 
Dictionary.com is not alone in letting the internet influence its offerings. Cambridge Dictionary's 2022 Word of the Year was inspired by Wordle, the viral word-guessing game that took the world by storm earlier last year. Oxford University Press dubbed "goblin mode" word of the year, which is a piece of internet slang that rose to popularity. Linguists themselves even recognize the trend, with the American Dialect Society crowning "-ussy" as its word of the year. 
"Language is, as always, constantly changing, but the sheer range and volume of vocabulary captured in our latest update to Dictionary.com reflects a shared feeling that change today is happening faster and more than ever before," said John Kelly, senior director of editorial at Dictionary.com, in a press release sent to Gizmodo. "Our team of lexicographers is documenting and contextualizing that unstoppable swirl of the English language—not only to help us better understand our changing times, but how the times we live in change, in turn, our language." 
All definitions are taken from Dictionary.com.