In Harry Potter and the Deathly Hallows, opening next week, there are seven Harry Potters. But in real life, there have been way more Potters than that. Here's the complete list of stories that people have accused of copying Potter.
Back in the day, it used to be that everybody accused Harry Potter of being an imitation of some older fantasy story — but now it's the other way around. Check out the list:
Actual Knock-offs
When people will buy anything Harry Potter-related, the temptation to create a faux Potter product is almost supernaturally irresistible.
G/O Media may get a commission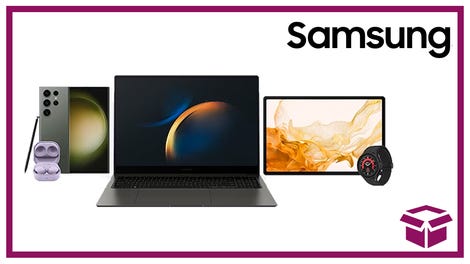 24 hour deals
Discover Samsung - Daily Deal
The Tanya Grotter Books by Dmitri Yemets
When these books first came out they made the rounds of all the Harry Potter blogs and fansites. And author Dmitri Yemets has said they are a "cultural response" to Harry Potter and has defended them against accusations of plagiarism by saying they are parodies. But even if they are parodies, you're not going to find Tanya's adventures riding around on her flying double bass in your local English language bookstore.

Unauthorized Chinese "Sequels"
These include Harry Potter and the Bao Zoulong, Harry Potter and the Filler of Big and a fake version of Harry Potter and the Deathly Hallows (which had 70% less teen angst!). Bao Zoulong is most memorable for being primarily a Chinese translation of The Hobbit with the names changed to those of the Harry Potter characters. You can recreate this book at home with the "find and replace" function in Word. There's also Harry Potter and the Chinese Overseas Students at the Hogwarts School of Witchcraft and Wizardry, in which a group of Chinese students come to Hogwarts and — of course — are way better at magic than Harry and his friends. And then there's this fantastic book called Harry Potter and Beakwr and Bum, where Harry teams up with a dinosaur and the bug from A Bug's Life:

Harry Potter in Calcutta by Uttam Ghosh
There's not much on the internet about this unauthorized sequel, except that Harry Potter does travel to Calcutta and Bloomsbury, Harry Potter's UK publisher, shut it down.
And then there's this person's hilarious post on Answers.com about their not-at-all-Harry-related story idea.
Harry Squatter and the Sorcerer's Bone
Tired of reading Harry Potter slash fiction? You can always watch actual Harry Potter gay porn. (Warning: Link definitely NSFW!) Here's the blurb:
A large stranger shows up at Harry's door and pulls him away from his old life to a new one of magic and sex! Lawyer Ronald shows the big man a few tricks of his own and David practices his prestidigitation by pulling naked men out of thin air! Next Siggy attempts to levitate a vase but ends up Levitating an object in Ron's pants! Finally, Harry meets the school's Headmaster, who shows him the sorcerer's bone, and the true meaning of the term Headmaster!
Wait. Who's Siggy?

Barry Trotter and the Shameless Parody by Michael Gerber
There have been a whole slew of Harry Potter parodies, but this is the most famous, and it still has a burgeoning website. From the blurb:
Hogwash School for Wizardry and Witchcrap is the most famous school in the wizarding world and Barry Trotter is its most famous pupil. It's been that way ever since J.G. Rollins' Barry Trotter and the Philosopher's Scone broke publishing records worldwide. So important has Barry become to the school's bottom-line that it has been agreed that he can stay at Hogwash for as long as he likes. Barry Trotter is 22.
There's also Barry Trotter and the Unnecessary Sequel and Barry Trotter and the Dead Horse.

Harry's Children
And then there are the properties that simply rode the wave of Harry Potter love.
Percy Jackson and the Olympians, by Rick Riordan
This comparison seems to get a lot of internet play from people who haven't read their Joseph Campbell. But at least one person has mapped out all the character and plot parallels. But with all the Greek mythology instead of Western European mythology, the end result is quite different. However, if you take a gander at the first Harry Potter and (so far) only Percy Jackson films, you may notice plenty of similarities in cinematic style. That's probably because Christopher Columbus directed both. The most damning evidence? Neither Percy nor Harry can get their hair to stay flat.

The Landon Snow books by R.K. Mortensen
When Harry Potter first achieved popularity, there was a huge outcry among Christian parents, fearing that the books were exposing their kids to witchcraft. So these books were explicitly marketed as Harry Potter for Christians. Says the Christian Fiction Blog Alliance: "Christian parents are finally offered a true Potter alternative...All the adventure of Harry Potter...None of the sorcery!" R.K. Mortensen is an ordained Lutheran minister, who's been writing inspirational articles since 1995. Of course, the lack of sorcery actually makes these somewhat different from the Harry Potter books, and there's also the fact that they're much lighter and fluffier, and apparently contain frequent belch jokes. And, natch, there's a Christian message throughout.

The Inheritance Cycle by Christopher Paolini
Similarities: Virtually none. Everybody knows these books are really a combination of Star Wars, Lord of The Rings and Dragon Riders of Pern. But that doesn't mean these books didn't benefit hugely from Harry Potter. Harry Potter is published in the U.S. by Scholastic, and is a virtual cash machine for the company. The books, and Scholastic's cut of the merchandise, basically funded Scholastic for a decade. Who wouldn't want that? Eragon and its sequels were picked up by Knopf after the book had been self published. Knopf's publicity and marketing departments hoped beyond hope that this would be the next Harry Potter. In fact, they did pretty well without ever becoming a once in a lifetime phenomenon that was Harry Potter. Is there proof that this book wouldn't have gotten published otherwise? No. But the number of books that have moved from self-published to major publishing houses? Well… there's this one.

Harri Puttar: A Comedy of Terrors
This Bollywood movie is more a rip-off of Home Alone than of the Harry Potter books/films, except for the main character's name. That didn't stop Warner Bros. from filing a lawsuit, however.

The Mystical Adventures of Billy Owens
An 11-year-old boy finds a wand in a second-hand shop and discovers he is... wait for it... a boy wizard, in this series of two films. Says Screenhead:
Billy has two friends, an underachiever named Devon and a clearly pedantic know-it-all named Mandy. There's even a school bully who relentlessly pursues Billy, with his two toadies. Imagine how loud and long I laughed when I realized that the school bully had his own Krabbe and Goyle.
In the sequel, Billy and his friends find an amulet that sends their teacher Thurgood ("Rowdy" Roddy Piper!) into a deep, magical sleep — which makes him the luckiest actor in this series. ("I came here to kick ass, chew bubblegum, or sleep through the rest of the film. And I'm out of bubble gum, and I've got a leg cramp. Ooh, here's a comfy bench. Zzzzzzz.")

Leven Thumps and the Gateway to Foo by Obert Skye
Wait, what? At least "Leven Thumps" is a great name for a fantasy hero. Writes the Christian Science Monitor, "An orphaned teenage boy raised by a loathsome aunt and uncle suddenly discovers he has hidden powers and links to a magical world. Sound familiar?" Apparently, even the typeface is designed to put you in mind of Potter. The main difference is that the land of Foo is a dream world, and "Leven Thumps" has to stop the evil Sabine from bringing Foo into the real world, in which case we'd all be FUBAR. Leven is joined by a "teenage nit who can freeze anything," a Dobby the House Elf clone, and the rightful King of Foo, who's imprisoned in a toothpick.

Artemis Fowl by Eoin Colfer
When this book came out in 2002 it was hailed as 'the next Harry Potter.' If you actually read it, you'd know it wasn't. It is a fantasy book with a pre-teen antogonist (Artemis is the bad guy! The good guy is a fairy cop!) but that's as close as you're going to get. Is there a case? Only in the delusional minds of Hyperion Books For Children's marketing division. They were clearly trying to wide the waves of Harry Potter fanaticism, but the actual similarities are pretty slight.

Wizards of Waverly Place (Disney TV Show)
Teenage wizards who have to live their magical lives on the down low, while conflicts erupt in school. This is HP lite: parents are still alive and most of the conflicts are of the "sitcom misunderstanding" type. And if there is a bad guy, they're dealt with within the half hour. Still, this show really wouldn't exist without Harry Potter. Disney may have a stranglehold on big0screen fairytales and a track record of creating one or two fantasy TV movies per year, but Wizards of Waverly Place is different. Wizards never got much play except as bad guys in the Disney cannon before this. Also, the relentless school family magic focus of the show just feels like a watered down version of the real thing. It's also from a writer on Hannah Montana, suggesting an attempt to tap into the kiddie zeitgeist. Finally, Waverly Place in Manhattan, while it has a lovely assonance with the word Wizard, is NYU stomping grounds and not the sort of place a nice family show should really be set. It is however, about a fifteen minute walk from Scholastic's New York headquarters. Secret Disney F-U to the new kings of children's media? Oh yeah. Rip-off? Not really.

Charlie Bone (The Children of the Red King Series) by Jenny Nimmo
A young boy (this time age 10) lives with his horrid relatives, but discovers he has magic powers and is sent off to a boarding school for magical children where he makes friends and fights evil, throughout many books. He discovers a great deal about his dead parents and his ancestry. Also he's got dark hair. Charlie Bone is compared to Harry Potter so often he might as well be a Harry clone. But his boarding school is run by evil, hypnotizing kidnappers. And the ultimate battle between good and evil is ultimately framed as a family affair. Perhaps it would be more like Harry Potter if Harry's family was more like Draco's and he began school while Dolores Umbrige was in charge.

The Magicians by Lev Grossman
When the London Times calls your book "Harry Potter for grown-ups," there may be something there. And Grossman has written that working on this book was "my coping mechanism" while waiting two years for the next Potter book. As Flavorwire put it, "Quentin Coldwater is similar to Harry Potter in that he's attending a school that teaches magic, but this story is more adult than J.K. Rowling's series - think sex, drugs, and the streets of New York City." But his magical world of Fillory owes more to Narnia than to anything in the Potterverse. And the magical war in the book is much more akin to modern political strife than any pure good vs. pure evil conflict.

Vampire Academy by Richelle Mead
This series (like all other supernatural romances set in boarding schools) is the unholy alliance of Hogwarts with Twilight's teen love triangles and supernatural chills. Yes, there have always been books about magical kids going away to learn new things, but this is now its own subgenre. And it wouldn't exist without Harry Potter. (And Twilight). Other books include: The Delacroix Academy by Inara Scott, Shadow Hills by Anastasia Hopcus, Evernight by Claudia Gray, House of Night by P.C and Kristin Cast, Hex Hall by Rachel Hawkins, Goddess Boot Camp by Tera Lynn Childs, Dead Beautiful by Yvonne Woon, Immortal by Gillian Shields, Firespell by Chloe Niell etc.

The Bartimaeus Trilogy by Jonathan Stroud
You know how in Harry Potter, the bad guys want to rule the muggle world and the good guys use bureaucracy like the Ministry of Magic's Department of Magical Accidents and Catastrophes, The Improper Use of Magic Office, The Department for the Regulation and Control of Magical Creatures? Okay, now imagine a more or less modern world where the wizards use their bureaucracy to control the population at large, wage war from Britain against the Czech Empire, and try to stamp out dissent in the North American Colonies. The Bartimaeus Trilogy isn't a rip-off of the Harry Potter books, per se (at a fundamental level, magic comes from demons in this universe) but it does seem to imagine what would happen if the guys in charge of Rowling's Ministry of Magic were, well, a bit more human in their ambitions. It helps differentiate itself by being primarily narrated by the eponymous Bartimaeus, a djinn captured by and working for a young apprentice wizard.

The Seeker: The Dark Is Rising
This 2007 film adaptation of Susan Cooper's beloved 1970s book series took huge liberties with the source material — and one reason for this was to make it more appealing to the Potter fans. As the New York Post put it, "a teenage boy is instructed by grown-up mentors in the use of magical powers while a dark lord who comes in many formats promises an epic battle." Right on the eve of his 14th birthday, Will Stanton discovers he's actually a magical boy who must find the six signs and release the Light. The actual storyline is only vaguely Potter-esque, but it's clearly an attempt to appeal to Potter fans.

Other fantasy movie epics
In the 1980s, there were 18 English language theatrically released fantasy films aimed at children In the 2000s, there were 60, (not counting the Harry Potter films, or the Pirates of the Caribbean films or Lord of the Rings films, which were aimed at teens and up.) No matter how good the source material, these films would probably not have been made without Harry Potter: Eragon, Tuck Everlasting, Bridge to Terabithia, The City of Ember, The Lion, The Witch and the Wardrobe, Voyage of the Unicorn (from the book Voyage of the Basset), The Golden Compass or Inkheart (from the book of the same name). Not to mention Nic Cage's The Sorcerer's Apprentice, in which Jay Baruchel is trained in magic and discovers he's the only one who can stop an evil magician and save the world.