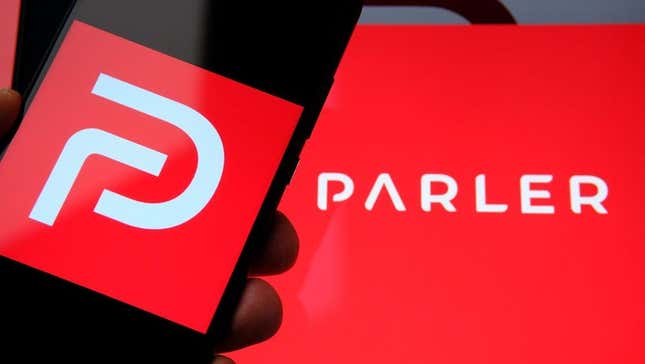 Disgruntled former Parler employees are pushing back against Starboard's acquisition of the platform, saying they will create their own version of the far-right social media site that fulfills its original goals. Known for its role in the January 6 attack on the Capitol, the platform is reportedly heading in a direction that has frustrated its former staff.
Why Banning TikTok Won't Protect Our Privacy
According to The Daily Beast, a Discord server called "Parler Life Raft" was recently organized for Parler allies and the site's former employees to brainstorm ideas for launching a spinoff site.
"Parler management are straight up f*ggots," Dennis Harrison, whose LinkedIn lists him as lead engineer at the company, wrote in a private Discord server viewed by The Daily Beast. "They ruined something good." In a separate message, Harrison complained, "They finally revoked my VPN access so I can no longer run bootleg Parler from the Parler laptop they gave me. I'll take forever to send back."
Starboard completed its acquisition of Parler last week, calling it an "uncancelable free speech platform" in a news release, and saying it will provide a home for people "away from the ad-hoc regulatory hand of platforms that hate them." The company removed the app with plans to relaunch it, citing it as a "strategic assessment" and called it a "Twitter clone" for conservatives that isn't a "viable business anymore."
Starboard did not immediately respond to Gizmodo's request for comment.
Former employees appear to believe there's still a market for a platform with the far-right ideals which contributed to Amazon and Google's decision to drop Parler in 2021. Harrison wrote to his fellow cohorts in another post that they could "probably commit to sending out [a] link next week," to the spin-off site, provided they are clear that it is only a beta test. He wrote that the site will be "probably 65% Parler. Totally wild west for the next month," The Daily Beast reported.
Parler loyalists clapped back at Starboard's takeover, including the co-founder and former CEO, John Matze, who openly criticized the direction Parler has taken in recent years. "Many of the original founders and employees can't even say the name anymore," Matze wrote on Discord. "But I understand wanting to hold onto the good memories of what we all had. I miss the community." He added, "Maybe burn it. Let's find something new. I trashed everything Parler from my house a long time ago."
Parler markets itself as a "free speech" platform and does not adhere to the typical practices of monitoring hate speech, inciteful posts, or moderate right-wing extremists on its site. But as Twitter lifts its moderation policies and more people flock back to the platform, Harrison reportedly told his fellow Discord channel members that he expects they will soon receive roughly $300 a month in donations and after taking it public, estimated it "will go up to $500."
Harrison told The Daily Beast, the group doesn't have plans to explicitly clone Parler. Instead, he insists, they're "doing something better."