Thanks to innovations in 3D printing, anyone can now get an action figure customized with their own likeness through Hasbro's Selfie Series program—assuming they've got the patience to wait a few months for it to be made. Disney's new Tron Identity Program promises customized action figures in about 16 minutes by skipping the 3D printing altogether.
Don't Mess With Luthen and His Fricking Lasership | Andor Review
In fact, the new collection of Tron action figures don't feature face sculpts at all. The secret to their speedy customization is hidden inside a slick helmet each figure is wearing. Behind the transparent visor is an LCD screen that displays images of digitally captured faces making different expressions, and when played back in sequence, it can even make the figure look like it's talking.
Why Is Tron Back in the News Again?
Despite an excellent electronic soundtrack provided by none other than Daft Punk, Tron: Legacy—sequel to the original Tron, which featured groundbreaking special effects back in 1982—failed to create much of a legacy of its own when it hit theaters in 2010. So why is Disney churning out more merchandise and toys based on the Tron sequel?
In 2016, when Shangai Disneyland opened its doors to the world, one of its exclusive rides was Tron Lightcycle, an innovative roller coaster where riders climbed aboard motorcycle-like light cycles that raced along a track going in and out of the attraction's enclosure at speeds of up to 60 miles per hour, making it the most thrilling of all the thrill rides in Disney's parks.
Seven years later, on April 4, 2023, the newly added Tron Lightcycle attraction will officially open in Tomorrowland at Walt Disney World in Florida, so Disney is introducing a mountain of new merchandise that will exclusively be available to guests exiting through the attraction's gift shop.
Also, it can't hurt that Disney is still trying to make a third Tron movie...
A New Way to Customize an Action Figure
Whereas Hasbro's Selfie Series requires users to use a mobile app to snap a series of pictures of their head and face, which are then used to generate a 3D model that can be 3D-printed, the Tron Identity Program Experience focuses its image captures on a customer's facial features, specifically. After being digitized, customers can select what their own figure will look like from a small collection of options, as well as the style of helmet their figure will be wearing, and their team color, as the figures also have glowing color-changing accents on their outfits.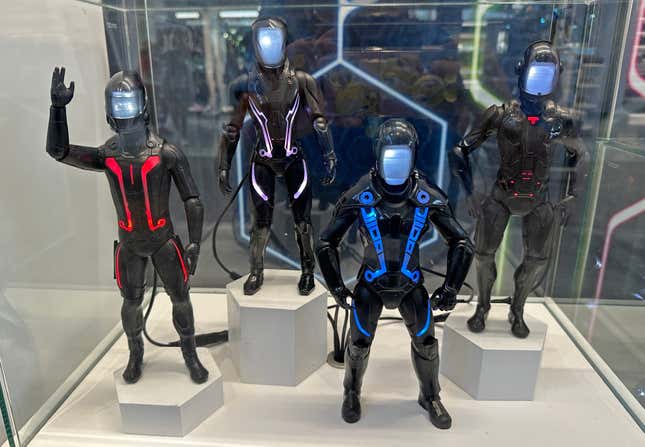 The last step, which is something not offered with Hasbro's Selfie Series figures, is that customers record six lines of dialogue in their own voice, which are played back when a button on their figure's chest is pressed. What's especially innovative is that a figure's custom identity is stored on a small removable memory card that can be transferred to other figures, as well as other electronic Tron accessories available at the attraction's gift shop.

Only Available at the Happiest Place on Earth
Creating the customized figures only takes around 16 minutes—plenty of time to browse the rest of the gift shop—and they arrive in packaging that looks like a miniaturized Tron arcade cabinet.
With a $90 price tag, the Tron Identity Program Experience is about $30 more expensive than ordering a customized Hasbro Selfie Series figure, but the price difference is probably due to the added electronics in the Tron figures. However, if you want one, you'll also have to factor in the cost of a trip to Walt Disney World, because while Hasbro's Selfie Series figures are available to anyone who can use a smartphone app, the Tron Identity Program Experience is only available at the park, outside the Tron Lightcycle attraction, in Florida.

---
Want more io9 news? Check out when to expect the latest Marvel, Star Wars, and Star Trek releases, what's next for the DC Universe on film and TV, and everything you need to know about the future of Doctor Who.