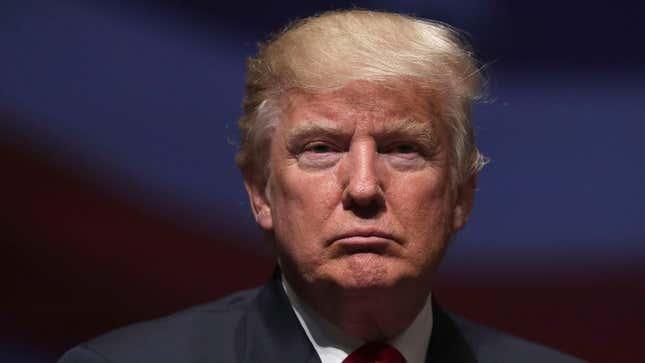 Donald Trump wants you to know he's an "innocent man" after breaking the news that he's being caught up in "yet another witch hunt." The former president has been indicted on seven counts in a special counsel probe into his handling of a cache of classified documents, allegedly retained long after his presidency ended. It's the first time a former president has faced federal charges. You can read the full indictment here. 

Trump Went Through Twitter Withdrawal
In a four-minute video ramble posted to his Truth Social account, the 2024 presidential hopeful made sure to remind his followers of his popularity and more than once questioned why the nefarious deep-state "they" would do something like this to "a popular president, a president that got more votes than any sitting president in the history of our country, by far." According to the 49 page unsealed indictment, Trump's being charged with willful retention of national defense information, conspiracy to obstruct justice, withholding a document or record, corruptly concealing a document or record, concealing a document in a Federal investigation, scheme to conceal, and false statements and representations.
In the antediluvian era before ChatGPT, Trump's tweets and speeches were a marvel and a horror of the ways that a human imagination could mangle a sentence and still convey meaning, how syntax could bend and break but still convince and coerce. In 2023, reading actual transcripts of anything he says reads like a hallucination from a generative AI, which lessens the fascination. In response to the federal indictment, he TRUTHed:
The corrupt Biden Administration has informed my attorneys that I have been Indicted, seemingly over the Boxes Hoax, even though Joe Biden has 1850 Boxes at the University of Delaware, additional Boxes in Chinatown, D.C., with even more Boxes at the University of Pennsylvania, and documents strewn all over his garage floor where he parks his Corvette, and which is "secured" by only a garage door that is paper thin, and open much of the time.
He calls very real accusations against him a hoax. This time, he's referring to the classified documents probe as a "boxes hoax." He thrives off of any controversy surrounding him and wasted no time using this latest mark against him to ask his supporters to please donate to his political campaign. He probably raised a lot of money.

Does Donald Trump know what ChatGPT is? He hasn't talked about it at any great length. Ex-journalist and current Meta flak Tom Gara pointed out that what comes out of Trump's mouth could never be produced by AI. It's that unhinged, unexpected, and, well, human. "A garage door that's paper thin, and open much of the time." Part of me gets a kick out of Trump's strangely specific yet terribly vague stream of consciousness. But then quickly, I realize the seriousness of the subject matter and the real consequences that can come following what Trump, in all his messy, awful human-ness, says.