Chris Hemsworth teases Thor: Ragnarok. Colin Trevorrow talks about taking direct inspiration from Michael Crichton for Jurassic World 2. Plus, even more Transformers: The Last Knight footage, and a new clip from next week's episode of Doctor Who.To me, my Spoilers!
Man of Steel 2
The Wrap's Umberto Gonzalez has staked his claim that a swirling 4chan-based rumor about Supergirl's involvement in the sequel is a fake, among other tidbits about future DCEU movies that should also be taken with a copious amount of salt, because after all, this is a 4chan rumor.
---
Thor: Ragnarok
While speaking at Australia's Supanova Expo, Chris Hemsworth confirmed that sadly, Thor's roommate Daryl will not appear in Thor: Ragnarok, but could appear in Avengers: Infinity War. On top of that, the actor also says that Asgard gets a makeover during the events of Ragnarok, which makes sense given that we see Hela's forces ravage it during the trailer.
G/O Media may get a commission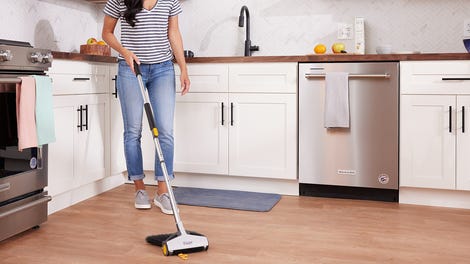 BOGO 50% Off
Flippr - BOGO 50% Off
[Reddit]
---
Edge of Tomorrow 2
Director Christopher McQuarrie promises the sequel will bring clarity to the original film's ending.




---
Fantastic Four
Producer Kevin Feige has once again confirmed there are currently no plans for the Fantastic Four in the MCU. Please look forward to hearing that answer repeatedly for the next few years.
[We have] no plans with the Fantastic Four right now. No discussions about it.
---
Jurassic World 2
While appearing on the Happy Sad Confused podcast, writer Colin Trevorrow admitted to swiping some of Dr. Ian Malcolm's dialogue in the movie from Michael Crichton's original Jurassic Park novels.
You know, I did rely on [Michael] Crichton for a lot. I used a lot of Crichton dialogue. Maybe one of my highlights of this whole process is Goldblum. Jeff Goldblum called me – and I'm not going to do an impression – but he was like, 'Look, I've added a couple of things, and I thought I'd perform it for you.' [Laughs] Oh, great, okay. So, we sat on the phone for an hour as he ran these lines, and I talked about it. And, I mean, that's – it was almost better than being there on set. It was great.
Trevorrow then went on to hype the exciting "middle" of the movie:
It's just deeper, more character-based, and it definitely leans into suspense, especially in the second half… It does have the big action in the middle. There's a sequence in the middle that I've been watching – I mean, I watch dailies every day – but I've started to see stuff come together, and it's just insane.

I apologize to those who thought they were never gonna need to see another Jurassic World movie, because I think J.A. Bayona is gonna prove [them] wrong.


---
Justice League
New set pictures from the reshoots have people wildly speculating that the Hall of Justice or even the team's orbital station, the Watchtower, is being built for scenes in the film. The Hall of Justice looks a lot like a car park full of trailers, at the moment, so make what you will of that speculation
---
Mission: Impossible 6
Director Christopher McQuarrie has been sharing a number of behind-the-scenes photos on his Instagram. Click the link to see more!
---
Okja
Tilda Swinton gets hacked in this new viral spot for Okja.
---
War for the Planet of the Apes
Caesar rhapsodizes on the necessity of war in a new Father's Day-themed TV spot.
---
Despicable Me 3
A separate, very distinct Father's Day spot for Despicable Me 3 involves Gru eating slime in a treehouse.
---
Brave New Jersey
Here's a trailer for an upcoming comedy about the 1938 War of the Worlds radio panic.
---
Transformers: The Last Knight
There's a couple seconds of new footage in this TV spot.
And here are two more gag TV spots, including a stop-motion blooper reel, and Bumblebee failing to record his lines properly.

---
Supergirl
Jessica Queller and Robert Rovner will join Andrew Kreisberg as co-executive producers for the show's third season. [Deadline]
---
Channel Zero
Season three of the creepypasta-themed anthology series is allegedly subtitled "Staircases," while season four will be subtitled "Hidden Door," according to Spoiler TV.
---
Dark Matter
Behold some crazy aging make-up and a new look for Android in a clip from this week's temporal anomaly episode, "All the Time in the World."
---
Doctor Who
Two Masters collide in a new poster—a riff on a similar teaser poster released for "The Day of the Doctor"—for the two-part season finale. [Doctor Who News]
And finally, here's a clip from next week's episode, in which Missy's had enough of all these thirteenth Doctor rumors and decides to be the new Doctor Who herself.

---
Additional reporting by Gordon Jackson. Banner art by Jim Cooke.