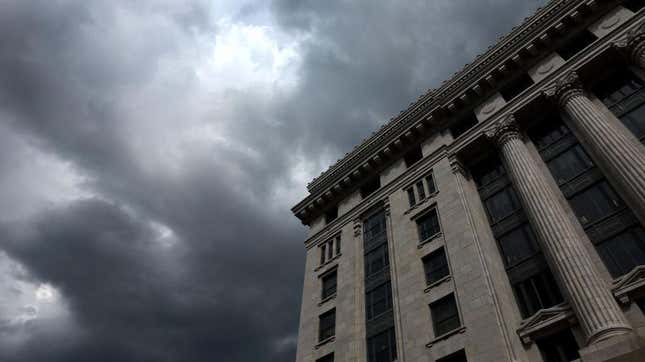 Two people are dead and more than a million were in the dark after a series of severe weather bringing heavy rain, thunder, and strong winds swept over much of the East Coast yesterday evening.
Arctic Blast to Send U.S. into Dangerous Deep Freeze, Imperiling Holiday Travel
There's a line of widespread outages that go from Georgia, and up through Pennsylvania. More than one million people went without power Monday evening, according to USA Today. By Tuesday morning, the number started declining, according to data from Poweroutage.us.
National Weather Service meteorologist Chris Strong said Monday night, "This does look to be one of the most impactful severe weather events across the Mid-Atlantic that we have had in some time."
Pennsylvania has some of the worst outages, with more than 90,000 customers currently without power. North Carolina also saw felled trees and damaged power lines. As of this morning, more than 72,000 customers are without power.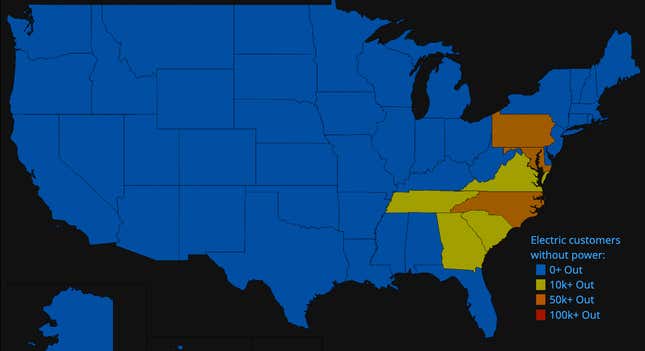 Two deaths have followed the evening of severe weather that included felled trees, localized flash flooding, and more than 400 reports of strong wind. A 28 year-old-man died in Florence, Alabama after being struck by lightning in a parking lot, the New York Times reported. A 15-year-old boy in Anderson, South Carolina died after a large tree fell on him, WYFF News reported.
The damage from the storms have continued to slow down travel throughout the entire country. As of this morning, more than 300 flights into, out of, or within the country have been canceled, according to data from FlightAware. In anticipation of the severe weather yesterday, over 2,000 flights were canceled and nearly 8,000 were delayed, per FlightAware.
It's going to be an overcast day for a lot of the Northeast today. Several state including Vermont and and New Hampshire could see rainfall and some minor flooding this evening, according to an alert from the National Weather Service (NWS).
"Scattered showers, and perhaps a few storms will affect the region again today," the Burlington, Vermont NWS station tweeted this morning. "The storms should be non-severe, but locally heavy rainfall and isolated flash flooding will remain possible."
Want more climate and environment stories? Check out Earther's guides to decarbonizing your home, divesting from fossil fuels, packing a disaster go bag, and overcoming climate dread. And don't miss our coverage of the latest IPCC climate report, the future of carbon dioxide removal, and the un-greenwashed facts on bioplastics and plastic recycling.