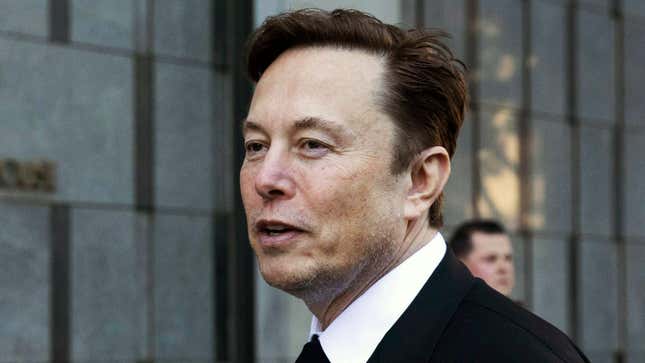 Twitter's soon to be ex-CEO Elon Musk was subpoenaed by the U.S. Virgin Islands for his potential involvement in the Jeffrey Epstein case filed against JPMorgan Chase bank. The subpoena does not specify what Musk's alleged involvement was, but says it has requested Musk's bank documents, noting only that "Epstein may have referred or attempted to refer [Musk] to JPMorgan."
NPR Is Going Dark on Twitter | Future Tech
Musk denied any involvement or wrongdoing in the case in a Twitter post, writing, "This is idiotic on so many levels: 1. That cretin never advised me on anything whatsoever. 2. The notion that I would need or listen to financial advice from a dumb crook is absurd. 3. JPM let Tesla down ten years ago, despite having Tesla's global commercial banking business, which we then withdrew. I have never forgiven them."
Epstein was a longtime customer at JPMorgan Chase, and a lawsuit filed against the bank by the Virgin Islands claims it knew he was sex trafficking numerous women. The suit accuses JPMorgan of ignoring evidence for "more than a decade because of Epstein's own financial footprint, and because of the deals and clients that Epstein brought and promised to bring to the bank," NPR reported. It further added that the bank allegedly "facilitated and concealed wire and cash transactions that raised suspicion of — and were, in fact, part of — a criminal enterprise whose currency was the sexual servitude of dozens of women and girls in and beyond the Virgin Islands."
JPMorgan denies the government's claims, according to NBC News.
Musk's alleged ties to Epstein remain unclear aside from a photograph taken alongside Epstein's associate Ghislaine Maxwell at a Vanity Fair event in 2014. Epstein is said to have died by an apparent suicide while in jail awaiting trial in 2019 and Maxwell was convicted in the sex trafficking case in 2021. Musk has previously claimed he was "photo-bombed" by Maxwell, and has denied knowing her.
However, Epstein had reportedly circulated information that he had advised Musk on financial matters during a Securities and Exchange Commission investigation into Tesla's financial dealings, according to The New York Times. A spokesperson for Musk told the outlet, "It is incorrect to say that Epstein ever advised Elon on anything."
The U.S. Virgin Islands has issued similar subpoenas to other high-profile individuals who banked at JPMorgan, including Google co-founder Sergey Brin. A federal judge ruled earlier this month that Brin's fellow Google co-founder, Larry Page, could be served with court papers after he couldn't be located to receive his subpoena.