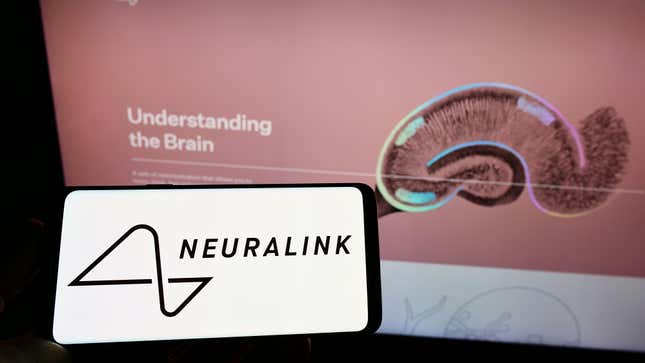 Despite approval setbacks, Elon Musk continues to charge forward on his grand plans for human brain implants. Neuralink, the billionaire's biotech venture, has asked one of the largest and best regarded U.S. neurosurgery centers to be a partner in potential, future clinical trials involving people, according to a Monday report from Reuters. The company is in discussions with Phoenix, Arizona-based Barrow Neurological Institute, per Reuters, as attributed to six unnamed sources.

Mr. Tweet Fumbles Super Bowl Tweet
Neuralink has been claiming human trials are just around the corner for years now. However, the company hasn't yet gotten U.S. Food and Drug Administration approval to put its brain computer interface (BCI) devices inside human skulls. In fact, it only filed its first application for such approval in 2022—despite Musk publicly claiming human tests were forthcoming in 2019, according to another Reuters investigation. The FDA denied the company's first bid for human trial approval last year, according to that early March report.
Yet that rejection doesn't necessarily mean Neuralink won't eventually reach the human trial stage on its extremely ambitious quest to cure a wide array of ailments and disabilities—from blindness to paralysis—with its brain implant. That the company is still actively searching for an institutional partner for conducting human procedures suggests that Musk and other Neuralink execs remain confident in their device's path forward.
Gizmodo reached out to Neuralink for more information, but did not receive a response as of publication time. As with Musk's other companies, like Twitter and Tesla, Neuralink almost never replies to journalist inquiries. Barrow Neurological Institute also did not immediately respond to Gizmodo's emailed questions.
To Reuters, however, a director from the Arizona treatment and research center said that Barrow would be well-equipped to conduct brain implant research along the lines of what Neuralink is hoping to do.
Regardless, discussions of a partnership are not confirmed, and a deal is not guaranteed. Reuters' anonymous sources reportedly said Barrow isn't the only institute that Neuralink has been in talks with.
Previously, Neuralink was partnered with University of California, Davis for non-human research. Specifically, the biotech company conducted work at UC Davis' California National Primate Research Center. However, the university ended that partnership for undisclosed reasons in 2020, according to a 2022 news statement from the institution. 
Neuralink is currently facing two federal probes. The first, from the U.S. Department of Agriculture's Office of the Inspector General concerns the company's animal testing practices. It follows allegations from an animal rights' advocacy group that Neuralink violated animal welfare laws, and caused needless torment to its mammalian test subjects. Neuralink has denied those allegations of animal torture. 
The Department of Transportation is conducting a second federal investigation into the biotech company over allegations related to improper transport of hazardous biological materials.
Though Musk has talked a big game about Neuralink's safety and ultimate goals to turn humans into AI-invincible cyborgs—the company has yet to deliver much in the way of results. Neuralink's most recent "show and tell" event duplicated a feat first accomplished almost 20 years ago, and that's about it.
Meanwhile, other brain computer interface companies have gotten further along in the steps necessary to reach market. Synchron said it implanted its first BCI device in a human in July 2022, after receiving FDA approval the year prior.