Elon Musk teases some new Tesla tech, Jay-Z wants to change the world (with a music streaming service), and benchmarks lay the rumored Z4 bare. Welcome to Bitstream, all the news tidbits and rumors you missed in the last 24 hours.
---
Elon Musk does what he wants. Revolutionize electric automobiles? Check. Jump start the private space industry? Sure, why not. Bring next-generation public transit to the masses. Yep, in the works. So when Musk announces surprisingly on Twitter that Tesla has a new product line, completely separate from cars, people tend to listen.
The current front-running rumor is that Tesla will show off a battery that powers homes and businesses. We're going to say that is most likely the case, but what if it isn't? Maybe Tesla is going to get into the wearable game (since every other company on the planet is) or maybe we might see Musk: Cologne for Men. Who knows, but one thing is for sure—we'll have a much better idea come Thursday, April 30.

G/O Media may get a commission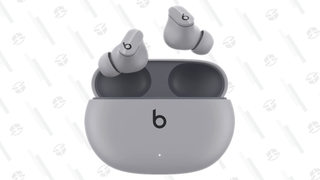 Apps and Devices
Got a busted Android or a years-old PC? All traded in for some extra scratch toward your next Apple purchase. [TechCrunch]
Adobe Comp CC lets artists, illustrators, and designers create on the go with tools for quick composition and easy export to any creative cloud application. Pretty cool but almost useless unless you're indoctrinated into the cult of Adobe.
Facebook adds a helpful feature that will let you follow bands and alert you when they post a show near you. Because missing out on your favorite band is the worst of feelings. [TechCrunch]
Jay-Z marched a parade of famous people onto a stage to announce Tidal, and its new lo-fi (in comparison) streaming tier for $10.
Rumors!
OnePlus' next smartphone may have a feature called "laser focus fingerprint identification system" embedded in the home button. [Phone Arena]
Windows 10 for phones spotted with transparent tiles so you can finally glimpse the wallpaper that's always hidden behind. [Windows Central]
Benchmarks show off possible Sony Z4 specs. Snapdragon 810. 19MP camera. Full HD screen. You know, the usual. [Trusted Reviews]
Here's how Chinese phone maker OPPO stress tests its product. Hint: They use robots:
What You Might Have Missed on Gizmodo
Harvard's "Frankenstein:" The 70s Controversy of Mixing DNA
Facebook Is Using Famous Instagrammers to Show Off Its New Office
Optimistic Predictions From 1950 That Warned of the Coming Dystopia
Feds Charged With Stealing Money During the Silk Road Investigation
Microsoft's New Spartan Browser Is Taking Its First Steps Into the Wild