The new Terminator film has found its latest killer robot. Zachary Quinto has hopes for at least one more Star Trek film in the Kelvin timeline. A fallen Legend could make their return in Legends of Tomorrow's future. Plus, hilariously cryptic teases for Westworld's return, and what's to come on The Flash. Spoilers, assemble!

Eternals
Saltshakers at the ready: Bleeding Cool reports "a very reliable" source has informed them Marvel is developing, and on the precipice of announcing, an Eternals movie, based on Jack Kirby's post-New Gods 1976 series (making the timing interesting given the recent news about Warner Bros.' New Gods film) about a race of human-adjacent superbeings created by the all-powerful Celestials to be Earth's cosmic defenders.
---
Terminator 6
Deadline reports Gabriel Luna (Ghost Rider on Agents of SHIELD) has been cast as the film's latest model of the titular killing machine from the future. THR adds that Natalia Reyes has landed the lead role of a character named Dani, "a young woman from a working class neighborhood in Mexico City who finds herself in the battle between humans and machines," with Diego Boneto playing her brother.
G/O Media may get a commission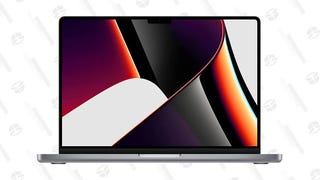 Save $300
2021 14" 1TB MacBook Pro
---
Bond 25
In conversation with Digital Spy, Naomie Harris stated she has "cleared her diary in anticipation" of filming the next James Bond, but has not been formally asked to return just yet.
I know nothing. I don't know if I am in it, but I do know they start shooting at the end of the year. I have cleared my diary in anticipation but I don't know.
---
Halloween
In a recent interview with Digital Spy, Jason Blum praised David Gordon Green for respecting "the DNA" of the Halloween franchise in the new movie:
I feel really good about it, I saw a cut of it two nights ago. I think David did a terrific job…He did everything I hoped he would do which is respect the DNA of the franchise and bring something totally new to it and we're really very very excited for people to see it.
---
Star Trek 4
Zachary Quinto has confirmed to The Observer that Paramount plans to make "at least one" more Star Trek film set in the Kelvin timeline.
Which ones are going to happen, which ones might happen first? I can't really say, I don't know honestly. I know there are lots of conversations being had about it. I know there are plans afoot to do at least one if not more movies.
---
House of M
Backtracking on recent comments, Elizabeth Olsen stated she'd "love" to make a Scarlet Witch solo film if it could adapt the character's storyline from House of M.
I would love to [do a standalone], and I would love it to be House Of M, which is a comic book series of The Vision and Scarlet Witch having a make-believe family. Then they [Vision and her family] have to tell her that she was make-believing the entire time, and she has a very traumatic experience and screams, and kills all the mutants – but that's an X-Men story so we'd have to adjust the ending.
Our own Charles Pulliam-Moore has some ideas on how the character should be utilized going forward.
[Metro]
---
New Mutants
Charlie Heaton told Entertainment Weekly the reshoots on New Mutants will alter the film into a "full-fledged horror" movie:
It's basically about these mutants in a facility for damaged mutants. It's a story about these characters coming to grips with who they are and it's a horror X-Men movie, which we haven't seen before. I feel like, for an X-Men movie, yeah, I think they're going full-fledged horror. Without saying too much — I really don't want to give away too much what it's about, it's very under wraps — but it is, in terms of anything we've seen in the X-Men world, it definitely is a horror film. It's scarier than anything we've seen in that genre.
---
Avengers: Infinity War
Joe Russo has confirmed to the Radio Times that The Leftovers and Fargo star Carrie Coon will be playing Proxima Midnight, the spear-wielding female member of Thanos' Black Order.
Elsewhere, Joe Russo continues to promise Hawkeye has not been forgotten, his story is simply "a little bit of a long play. Not a short play."
We keep saying patience is a virtue. We did not forget the twice-nominated Jeremy Renner. We just cooked up a story for him that is a little bit of a long play. Not a short play.
Artist Paul Shipper has illustrated a new poster exclusive to Dolby Cinemas.
Elsewhere in this interview with Andy McCarrol, the Russo's told Arrested Development fans to "keep their eyes open" for a surprise reference to the Russo's prior work on the show.
There's a few surprises coming. I would say that Arrested Development fans should keep their eyes open in this one.





---
Jurassic World: Fallen Kingdom
There's a mosasaurus hiding in this teaser for the full trailer coming Wednesday.





---
Star Trek: Discovery
Doug Jones has confirmed on Twitter filming has begun on season two, by, err, shaving his hair off.

---
Legends of Tomorrow
Following his explosive departure in the season finale, executive producer Marc Guggenheim is leaving the door open for Arthur Darvill to return as Rip Hunter, invoking the "no body, no death" rule:
We love Arthur, we love having Arthur on the show, and I think Arthur enjoys being on the show. Because it's a time travel show, and because we never saw a body, anything is possible. I think Arthur is totally willing to come back and play with us if we have a cool idea.
---
Agents of SHIELD
Episode 21 of the season is titled "F = G (m1 x m2) / d²", which for the less physics-inclined, is Newton's equation for the force of gravity. [Spoiler TV]
---
Westworld
Spoiler TV has some appropriately vague synopses for the first five episodes of season two.
Episode #11 (season 2, episode 1): "Journey into Night"

Debut date: SUNDAY, APRIL 22 (9:00-10:10 p.m. ET/PT)


The puppet show is over, and we are coming for you and the rest of your kind. Welcome back to Westworld.


Written by Lisa Joy & Roberto Patino; directed by Richard J. Lewis.


Episode #12 (season 2, episode 2): "Reunion"


Debut date: SUNDAY, APRIL 29 (9:00-10:00 p.m.)


Why don't we start at the beginning?


Written by Carly Wray & Jonathan Nolan; directed by Vincenzo Natali.


Episode #13 (season 2, episode 3): "Virtù e Fortuna"

Debut date: SUNDAY, MAY 6 (9:00-10:00 p.m.)


There is beauty in who we are. Shouldn't we, too, try to survive?


Written by Roberto Patino & Ron Fitzgerald; directed by Richard J. Lewis.


Episode #14 (season 2, episode 4): "The Riddle of the Sphinx"

Debut date: SUNDAY, MAY 13 (9:00-10:10 p.m.)


Is this now? If you're looking forward, you're looking in the wrong direction.


Written by Gina Atwater & Jonathan Nolan; directed by Lisa Joy.


Episode #15 (season 2, episode 5): "Akane No Mai"

Debut date: SUNDAY, MAY 20 (9:00-10:00 p.m.)


ショーグン・ワールドへようこそ (Welcome to Shogun World)


Written by Dan Dietz; directed by Craig Zobel.

---
Shadowhunters
Spoiler TV has photos from episode 7 of the third season, "Salt in the Wound." More available at the link.
With the Owl's identity revealed, Alec, Isabelle, and Clary head to Alicante to try and find a way to stop him. Luke and Simon team up to track Lilith's latest possible victim. Maia reflects on her past.
---
Supernatural
Spoiler TV also has photos from "Funeralia," episode 19 of the current season. Click through for more.
Sam (Jared Padalecki) and Dean (Jensen Ackles) must stop Rowena (guest star Ruth Connell), who is on a deadly mission. Meanwhile, Castiel (Misha Collins) looks to heaven to recruit angels for an impending invasion but is shocked by not only what he finds, but who. Nina Lopez-Corrado directed the episode written by Steve Yockey.
---
The Flash
Coming Soon has photos from "Lose Yourself," tomorrow's episode of The Flash. More at the link.
---
Ash vs the Evil Dead
Finally, Ash is ready to find Ruby and put an end to this once for all in the trailer for next week's episode, "Judgement Day."
---
Banner art by Jim Cooke.