The first live-action Star Wars movie that isn't an "Episode" will be a military adventure focusing on shades of gray, instead of black-and-white morality of previous Star Wars films. With absolutely no Jedi. Here's everything we gleaned from today's Star Wars Celebration presentation.
Is AI Moving Too Fast? | Future Tech
Gareth Edwards, LucasFilm president Kathleen Kennedy, and Kiri Hart (head of the story group at LucasFilm) all took the stage for a spin-off panel at Star Wars Celebration. And while we could not be there in the physical realm due to last minute complications, we have a full breakdown from the panel for you, thanks to the internet.
First up, what is Rogue One about? The official synopsis (released by the Star Wars twitter account) was released — confirming the long-rumored "heist movie" plot: "A band of resistance fighters unite for a daring mission to steal the Death Star plans in Star Wars anthology film, Rogue One."
Next, how will Rogue One fit into the rest of the galaxy far, far away? According to Edwards the film is set after Return of the Sith and before A New Hope. So it's a sequel to the prequels (almost). After giving a little detail, Edwards then screened a short teaser. Since Rogue One isn't going to shoot until this summer this is basically a teaser reel of footage that (most likely) won't be in the actual movie, but it still sounded amazing. The clip started with an Alec Guinness quote about "before the dark times" (indicating that this film is set during said dark times) while panning over a wooded planet. Here's what people had to say about it:
G/O Media may get a commission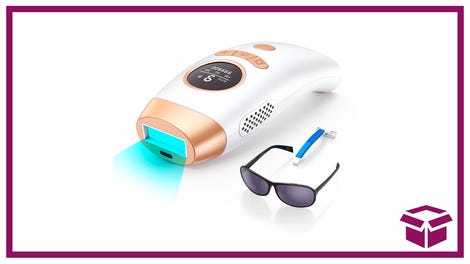 58% Off + Coupon
IPL Hair Removal Device
Now the real talk begins. Edwards confirmed that the lead character Felicity Jones (whose casting was only recently revealed) will be playing a Rebel soldier. According to Disney Insider, the Jedi are basically extinct at this point, so Rogue One will be a pretty Jedi free film. The cast of characters will not have superpowers, but will still find a way to bring hope to the galaxy. This is truly the very early stages of the Rebellion.
But the biggest takeaway from the Rogue One panel is how this movie will be a pretty large departure from the episodic films. Kiri Hart confirmed this early on when she revealed that all the "Anthology Films" (which is how Lucasfilm is labeling the spin off movies) will "vary in scale and vary in genre." And Rogue One sounds like it's going to be heavily influenced by past military movies. EW reported that the major movie influences are Saving Private Ryan and Black Hawk Down and Zero Darzk Thirty. Edwards insisted, "It's called Star WARS." Plus the the DP of Zero Dark Thirty is shooting Rogue One (via Devin Faraci).
Sounds as though Rogue One will be heavily influenced by all things military. This could work really well, since Edwards' Godzilla was also heavily shot from the point of view of a military man, a military family and participants in various special ops missions.
And if you need more proof of the more realistically tactical vibe Rogue One is channeling, here's a look at the concept art.
Finally here's the official title card, if you're curious how these spin off movies are going to be presented (very classic Star Wars).
Rogue One will shoot this summer and has a release date of December 16th, 2016.