Jay Lake just sold a novella to Prime Books, which could be his darkest, most intense work yet. Body modification and an exploration of the sexual underworld are just the start in Love in the Time of Metal and Flesh.
Here's the blurb for Love in the Time of Metal and Flesh from Prime Books:
Markus Selvage has been bent by life, ground up and spit out again. In San Francisco's darkest sexual underground, he is a perpetual innocent, looking within bodies — his own and others —'for the lost secrets of satisfaction. But extreme body modification is only the beginning of where he will go before he's finished...
We were dying to know more, so we asked Lake where this story sprang from. Here's what he told us:
LOVE IN THE TIME OF METAL AND FLESH was originally written as part of a multimedia experiment between me and artist Alan M. Clark. We spent five days in Borderlands Books, several years ago. Hence the San Francisco setting of the novella. Alan worked incrementally on a series of monochrome paintings while I wrote. We paused occasionally to exchange output and take feedback from one another. So, for example, Alan kept painting a man confronting giant bodily organs — think FANTASTIC VOYAGE via George Romero — and I kept writing sections of story from the perspective of someone directly addressing his internal integuments.

This in turn led me into body modification, in a slightly different sense of one addressing one's body and taking direct control of one's own somatic entity. The transgressive sexual angle is definitely an opening of doors — again, an aspect of somatic control and self-management through the lens of the characters and setting of the story. The true journey, as with so much fiction, is a journey of the heart. Given the iterative inflections of Alan's art, my words and our discussions, that journey became somewhat less metaphorical than it is usually considered to be.

Because so much of the story involved cutting, pain and body modification, when the draft was done I asked a friend who is part of cutter culture to read it. I wanted to be sure I'd portrayed that set of sexual/somatic practices as sincerely as possible. Not necessarily accurately, in the sense that I don't go down that road myself so must always address it at one remove — but without as little as possible of the freighting that normative culture gives to its views of extreme sexuality.

Given both the genesis and contest of the piece, it has a decidedly nontraditional structure and narrative approach. I think this, as much as the transgressive elements, is what drew Prime's interest. Sean Wallace, the publisher and acquiring editor at Prime Books, liked the depth and complexity and challenge of LOVE IN THE TIME OF METAL AND FLESH — I believe that he and I both see this novella as addressing difficult questions at the layers of plot, setting, character and story structure, all at the same time.
G/O Media may get a commission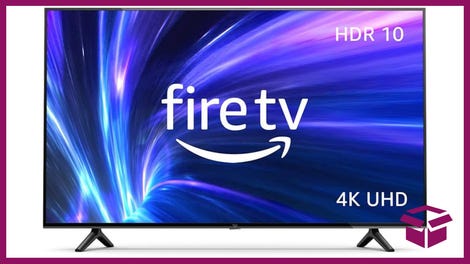 42% Off
Amazon Fire TV 50" 4K Smart TV
The novella will come out as a stand-alone book from Prime in late 2011.
Top image by Alan M. Clark.