Facebook is looking to gobble up users' financial information, including such tidbits as "card transactions and checking-account balances," as part of its relentless effort to swallow up yet more of the web, the Wall Street Journal reported on Monday.

According to the Journal's report, sources say the social media giant—which, for the record, has been enjoying months of controversy over its reckless handling of user data—has reached out to major banks including JPMorgan Chase, Wells Fargo, Citigroup Inc., and U.S. Bancorp to pitch "potential offerings it could host for bank customers on Facebook Messenger." In exchange for potential features including fraud alerts and checking-account balance checks, Facebook is asking for some of its users' most sensitive financial information, such as their balances and where they use debit and credit cards. (Just think of the last venue you visited that you might not want a massive social media company to know about.)
The Journal wrote that the move seems to be born of a need to demonstrate Facebook can squeeze yet more utility out the platform amid financially damaging news it has essentially maxed out on user growth for the time being:
Facebook has told banks that the additional customer information could be used to offer services that might entice users to spend more time on Messenger, a person familiar with the discussions said. The company is trying to deepen user engagement: Investors shaved more than $120 billion from its market value in one day last month after it said its growth is starting to slow.
They haven't been entirely successful, the Journal added, with at least one bank (JPMorgan) declining due to privacy concerns. The system would be opt-in only, and Facebook told the paper that it had no plans to use the data for ad targeting or to share it with third parties:
"We don't use purchase data from banks or credit card companies for ads," said spokeswoman Elisabeth Diana. "We also don't have special relationships, partnerships, or contracts with banks or credit-card companies to use their customers' purchase data for ads."
G/O Media may get a commission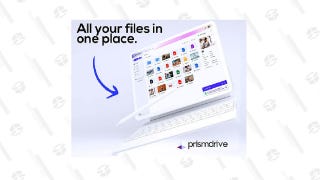 Save 97%
Prism Drive Secure Cloud Storage: Lifetime Subscription
If this makes you feel deeply uncomfortable, it might be because Facebook already has immense power over the internet, controlling over 60 percent of digital ad dollars in a duopoly with Google. It already controls massive data sets on its users and has repeatedly proven itself willing to abuse this privilege.
Stating that it does not intend to use the data for anything but innocuous purposes now does not necessarily indicate it will not decide to do so later, or that it could have its own other internal uses for the data that don't involve advertising or third parties. As the Journal wrote, one source said that the data "could be used to offer services that might entice users to spend more time on Messenger."
Rivals like Amazon and Google are seeking the same information, the Journal noted, and though one should be appropriately wary of any company asking for this privilege, they don't have massive data protection scandals like the Cambridge Analytica situation fresh in everyone's memory.
The Journal report indicates that banks are hesitant to get on board in part because they want to keep users on their own platforms, like Zelle, a competitor to Venmo and the Paypal-enabled Facebook Payments. But surveys conducted last year by the Verge, before Facebook's hellish 2018, showed the vast majority of consumers at least trust banks to safeguard their personal information. Far less trusted Facebook, probably because it is in the business of marketing personal information to others, and more recent surveys have indicated user trust in the company has taken a nosedive. As New York Times contributing writer Kara Swisher recently wrote, CEO Mark Zuckerberg still seems very much far from understanding why.
Does anyone want to give Facebook access to sensitive financial info in exchange for more alerts on their app? A cell phone can receive text-message fraud alerts, and anyone responsible already regularly looks at their bank accounts on a computer or via a bank-specific mobile app with minimal inconvenience. No one really materially benefits from this kind of arrangement but Facebook.
Though its stock bumped on news it was seeking big banking partnerships, Facebook pushed back on the Journal's report with what Slate reported was inconsequential counterpoints intended to reassure users about what the purpose of the initiative is. So even Facebook is aware that people might be wary of giving it financial info.