It was exciting when Mark Zuckerberg suggested that Facebook was building a "Dislike" button. So many things not to like! However, the social network just started testing a new emoji reactions feature that is probably the real future of disliking stuff on Facebook.

Facebook recently offered TechCrunch a preview of the new "Reactions" button. (Zuck later confirmed the feature
.) The idea is straightforward. For now, you click on the like button and get seven options of empathetic emoji. One is the original thumbs up, and then there are options for love, haha, yay, wow, sad, and angry. (Yay is clearly the best one.)
Don't freak out quite yet, though. The feature is currently only available in Ireland and Spain, where Facebook will be testing and tweaking the reactions based on how people use them. And if you're wondering how Facebook will use all this new data about how people are feeling, just know that Facebook and brands will be using that data. TechCrunch reports:
For Page owners and publishers, this data collection will also eventually make its way to Facebook's analytics dashboard. So, just as today social media managers can monitor shares and likes of certain posts, they will be able to now get more granular data about how people are emotionally responding to content on the social network, which should also help Facebook in its bigger play for selling advertising and simply getting more relevant content to users.
G/O Media may get a commission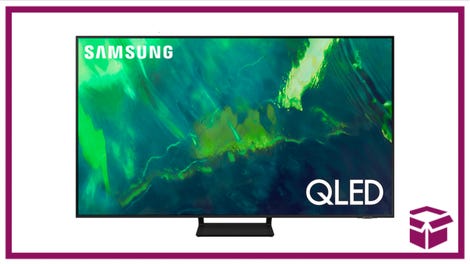 35% off
Samsung Q70A QLED 4K TV
Save big with this Samsung sale
If you're ready to drop some cash on a TV, now's a great time to do it. You can score the 75-inch Samsung Q70A QLED 4K TV for a whopping $800 off. That knocks the price down to $1,500 from $2,300, which is 35% off. This is a lot of TV for the money, and it also happens to be one of the best 4K TVs you can buy right now, according to Gizmodo.
Thank God, more relevant content.
[
, TechCrunch]
Images via TechCrunch