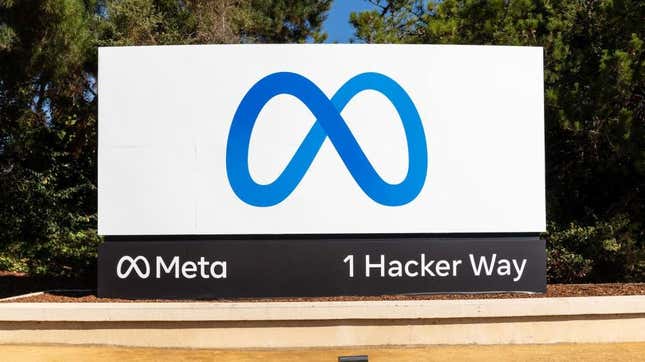 Meta's Oversight Board is asking for guidance on how to treat the Arabic word "shaheed" on the company's various social media platforms. The word is routinely flagged as terrorist-related content. Shaheed, which means "martyr," accounts for more content removals under the company's Community Standards than any other single word or phrase on their platforms.
Russian Court Says Meta Is "Extremist Organization"
Meta requested its semi-independent oversight board weigh in on moderation going forward and in the request, the company told the board that when translated into English, "shaheed" is typically used to praise or revere an individual who dies unexpectedly such as "in an accident or in a conflict or war." Meta further explained to Gizmodo that the word itself is not inherently violating of their policies. Currently, content that uses the word is only removed in relation to dangerous individuals.
According to the Oversight Board, Meta expressed concern over removing "shaheed" citing that it "can result in severe 'strikes,' or sanctions, for users." The board continued, "The company acknowledges that its current approach may result in significant over-enforcement, particularly in Arabic-speaking countries.
"Given the multiple meanings of 'shaheed' and difficulties in accounting for context at scale, Meta accepts that it may be removing speech that is "not intended to praise a designated individual."
The company said in a statement on the site, "Currently, we treat the word "shaheed" as explicit praise when used in reference to a designated individual, and we remove this content when we're aware of it. We do not remove the word "shaheed" on its own or when used to reference non-designated individuals."
Meta proposed three options to the board, first suggesting it remove any content that uses the word "shaheed" in reference to an individual, the second option would allow the use of the word in reference to a dangerous individual if the user is not praising that person, and the third proposed option is to remove content that uses Shaheed to reference a dangerous individual only if it relates to terrorist actions. Meta suggested this as the easiest option moving forward, saying that it would require a change in its DIO policy with the caveat that it could be construed as promoting voice over public safety.
The Oversight Board did not immediately respond to Gizmodo's request for comment.
"Meta asks the Board whether it should continue to remove content using "shaheed" to refer to individuals designated as dangerous under its Dangerous Individuals and Organizations policy, or whether a different approach would better align with the company's values and human rights responsibilities," the Oversight Board said in a news release. "Meta also requests guidance on similar content issues that may arise in the future."
The Oversight Board is currently reviewing Meta's request and is asking the public to share their personal opinions on the matter by submitting a contribution request on its website. The contribution form will be open until April 10 at 3 p.m. UTC, but the Oversight Board says the final decision will take much longer and it will post the results on its website.
Correction 3/9/2023 10:55 a.m ET: A previous version of this story suggested the word "shaheed" accounted for more content removals than any other site. That should have said on Meta's platforms. This story has also been updated to include additional comment and context from Meta.