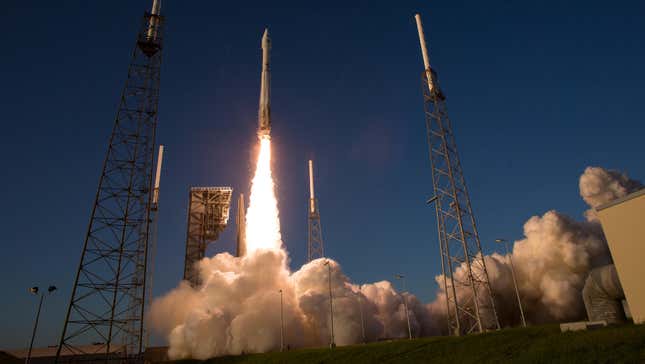 Amid time constraints and developmental delays with United Launch Alliance's Vulcan Centaur rocket, Amazon has chosen to deploy its Project Kuiper prototype satellites this fall using an Atlas V.
Top 5 Shopping Tips for Amazon Prime Day
"Project Kuiper is now planning to launch its prototype satellites on an Atlas V rocket," reads an official statement on Amazon's website. "ULA is working backward from a launch date in fall 2023. We will have more detail to share as the mission approaches."
Amazon's urgency is understandable, as it races against the regulatory clock. Its license with the Federal Communications Commission stipulates that it must launch half of Project Kuiper by 2026, with the entire 3,236-satellite constellation launched to low Earth orbit by 2029. A Reuters report points to a possible launch date of September 26 for the Atlas V mission.
The Vulcan Centaur, a 202-foot-tall (62-meter) rocket designed to replace the long-serving ULA Atlas IV and Delta V rockets, has faced setbacks in its development journey. After a four-year delay due to the overdue delivery of BE-4 engines built by Blue Origin, Colorado-based ULA is now tackling a problem with the rocket's upper stage that caused a significant explosion earlier in the year. When fully operational, Vulcan Centaur promises to lift up to 27.2 metric tons (60,000 pounds) to low Earth orbit and 6.5 metric tons (14,300 pounds) to geosynchronous orbit.
Similar to SpaceX's Starlink, Amazon's upcoming Project Kuiper aims to provide fast and affordable broadband internet access to regions around the world. The upcoming mission involving prototypes named Kuipersat-1 and Kuipersat-2 aims to test these satellites in space. If successful, ULA will then facilitate a megaconstellation across 46 launches, using both Atlas V and Vulcan Centaurs. In preparation for this project, Amazon has channeled $120 million towards the construction of a 100,000-square-foot satellite processing hub at NASA's Kennedy Space Center, Florida, in early 2025.
This marks the second time that Amazon has had to switch rocket platforms. The company initially aimed to deploy the prototypes using ABL Space Systems' RS1 rocket. Following multiple developmental hitches and a failed maiden launch in January, Amazon turned to ULA, targeting an early 2023 lift-off. A large explosion during a test at NASA's Marshall Space Flight Center in Alabama this past March thwarted those plans. ULA CEO Tory Bruno later attributed the failure to the vehicle's "super thin, high-performance steel skin" which required bolstering. Another pressure test is anticipated after the necessary modifications.
For the Vulcan Centaur's debut, ULA remains tasked with launching the Peregrine lunar lander, built by Astrobotic and funded by NASA, which is expected to deliver 11 payloads to the Moon. Beyond Amazon and Astrobotic, ULA is also contracted to launch 35 missions for the U.S. Space Force in the coming years.

For more spaceflight in your life, follow us on Twitter and bookmark Gizmodo's dedicated Spaceflight page.