Earlier this month, an ad for the morning sickness pill Diclegis came under fire from the FDA. Which wasn't so unusual; the FDA goes after deceptive advertising all the time. The unusual part was the platform: It was an Instagram ad by Kim Kardashian. And now Kardashian has been forced to post a "corrective ad" about the drug's side effects.
Kardashian's endorsement of the pill, made by a small drug company called Duchesnay, was first posted on Instagram, Facebook and Twitter on July 19th. By early August, the FDA sent a warning letter to Duchesnay saying that the ads were "false and misleading" because they didn't include warnings about side effects.
The original ad was written in a very conversational style, at least by internet standards, but the Instagram and Facebook posts didn't explicitly state that it was an ad.
"OMG. Have you heard about this? As you guys know my #morningsickness has been pretty bad," the original ad began. "I tried changing things about my lifestyle, like my diet, but nothing helped, so I talked to my doctor. He prescribed me #Diclegis, and I felt a lot better and most importantly, it's been studied and there was no increased risk to the baby."
The ad continued by explaining that she was so happy with #Diclegis that she was "partnering" with the drug company to tell people about it. For those who couldn't read between the lines, "partnering" meant taking a shit ton of money from them to post about it on her Facebook and Instagram.
G/O Media may get a commission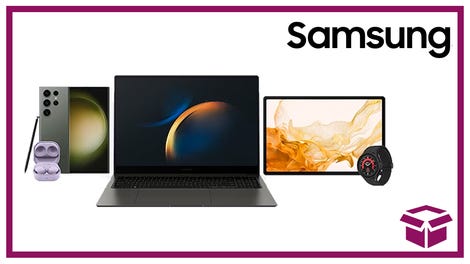 24 hour deals
Discover Samsung - Daily Deal
Last night Kardashian posted a "corrective ad" on Facebook and Instagram, including the original photo of her holding up a bottle of the drug. The new posts include about 100 percent fewer OMG's and a lot more use of words like "ethanolamine derivative antihistamines."
The "corrective ad" post in its entirety:
#CorrectiveAd I guess you saw the attention my last #morningsickness post received. The FDA has told Duchesnay, Inc., that my last post about Diclegis (doxylamine succinate and pyridoxine HCl) was incomplete because it did not include any risk information or important limitations of use for Diclegis. A link to this information accompanied the post, but this didn't meet FDA requirements. So, I'm re-posting and sharing this important information about Diclegis. For US Residents Only. Diclegis is a prescription medicine used to treat nausea and vomiting of pregnancy in women who have not improved with change in diet or other non-medicine treatments. Limitation of Use: Diclegis has not been studied in women with hyperemesis gravidarum. Important Safety Information Do not take Diclegis if you are allergic to doxylamine succinate, other ethanolamine derivative antihistamines, pyridoxine hydrochloride or any of the ingredients in Diclegis. You should also not take Diclegis in combination with medicines called monoamine oxidase inhibitors (MAOIs), as these medicines can intensify and prolong the adverse CNS effects of Diclegis. The most common side effect of Diclegis is drowsiness. Do not drive, operate heavy machinery, or other activities that need your full attention unless your healthcare provider says that you may do so. Do not drink alcohol, or take other central nervous system depressants such as cough and cold medicines, certain pain medicines, and medicines that help you sleep while you take Diclegis. Severe drowsiness can happen or become worse causing falls or accidents. Tell your healthcare provider about all of your medical conditions, including if you are breastfeeding or plan to breastfeed. Diclegis can pass into your breast milk and may harm your baby. You should not breastfeed while using Diclegis. Additional safety information can be found at www.DiclegisImportantSafetyinfo.com or www.Diclegis.com. Duchesnay USA encourages you to report negative side effects of prescription drugs to the FDA. Visit www.fda.gov/medwatch or call 1-800-FDA-1088.
While we can applaud the FDA for wanting to get more accurate information into the hands of consumers, they might want to investigate how to integrate a more conversational style for corrective ads on social media.
As I mentioned when this story first broke, the drug company could effectively be getting an additional free ad out of Kardashian. She's been made to post a "corrective ad" with a photo of her holding a bottle of Diclegis (more exposure for the company), and side effect information that most people probably won't read in its entirety.
Maybe it was all a wash anyway. The corrective ad went up in the middle of the VMAs and was sandwiched between selfies of Kim and photos of her and Kanye attending the awards ceremony. I suspect most people weren't carefully examining the side effects of a morning sickness drug last night.
[h/t Advertising Age]