It's about time. We've had decent enough glimpses at Bandai's upcoming Figuarts toys for Avengers: Age of Ultron through blurry magazine scans in the last month, but now the company have put out a set of official images to let us have a proper gawk at these beautiful plastic Avengers.
We've seen the official pictures for the Mk. 43 Iron Man before, but this is our first proper look at Captain America, Hulk and Thor in the line. Let's start off with the biggest, clocking in at around 9 inches tall, the glorious Hulk, who comes with an alternate head and set of hands to get his Hulk-smash on:
Lovely stuff. But his smaller-in-stature allies are no less impressive. Like Hulk, Cap also comes with an alternate angry head, as well as a set of open hands that can hold his shield in a throwing position.
G/O Media may get a commission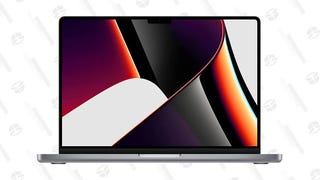 Save $300
2021 14" 1TB MacBook Pro
Thor doesn't join in on the alternate head fun, but does come with various hands ready to swing or hurl Mjolnir around, even a special version of the hammer to pose the character as if he's ready to take flight. Nifty!
The four heroes are also joined by the newest Iron Man armour, seen briefly in the recent AoU trailers, the Mk. 45 armour that is being considered the MCU's answer to the comic's "Bleeding Edge" suit. Like the other Iron Man, this figure comes with special FX pieces to recreate rocket boot and repulsor blasts, but it's also giving us our first good look at this suit before the movie hits. Seeing the two different suits side by side really shows the differences between the armours:
Even though we've seen them quite a bit thanks to all these magazine scans, it's nice to finally get a clean look at these toys, and they all look fantastic. Figuarts is known for its great quality, and although it's not the first time it's happened, it's not often they do western properties, so its great to see the Avengers get representation in the line. Let's hope there's a Figuarts Hawkeye and Black Widow on the way later to join the gang. They look marvellous, but we need to be able to complete the team!
Figuarts Iron Man Mk. 43 is due out next month, with his Mk. 45 variant due out in August. Captain America and Hulk will be available in July, with Thor bringing up the rear in September. Each figure will cost 6,264 yen, or roughly $52, while the bigger Hulk commands a bigger price of 9,720 yen — around $80. See more pictures at the link below.
[Bandai]
---
You're reading Toybox, io9's blog for all things pop culture. From merchandise to awesome fan creations, TV recaps and critical commentary on the hot topics of the day, you can find it all here!