September 25 will mark five years since Google first launched Shopping Express, the e-commerce offering meant to challenge Amazon's dominance. But despite Google parent company Alphabet's staffing brain trust and impressive coffers, Express has done little to reinvent fulfillment—in fact, according to several current and former workers, it's been running much the same playbook as other on-demand gig economy offerings. Meanwhile, major retail partners like Target are beginning to opt out of what few boutique services it does offer, leaving Express's contract workers scrambling in its wake.

Half a decade has given Google Express lots of time to experiment: with a subscription model (dropped last summer); with perishable groceries (ended after less than a year); with its own delivery hubs (shuttered). Tom Fallows, Express's founder, quickly defected to Uber, and late last year, the team another lost another key executive, Brian Elliott, who departed for the greener pastures of Slack. More recent stories about the tenuous alliance to unseat Amazon cite Google as a bit player on the side of Walmart, rather than a tech giant dragging stodgy brick-and-mortars into the future of commerce.

Express provides a revenue source for larger merchants, but a minor one at best: It only sees around 25 percent of the online traffic of Target, a fifth of Home Depot's, and less than 9 percent of Walmart's, according to Similarweb. While their lineup includes over 150 stores—some more recognizable than others—early partners, like American Eagle, Staples, Lucky, Office Depot, Blue Bottle Coffee, and REI have already disappeared from the list of partners, with little fanfare.
There's good reason for Express's failure to make a lasting mark. Amazon, Walmart, and other retailers have been waging a protracted war over warehousing and logistics while Express has almost no physical footprint of its own, instead leaching off the existing supply chains of its merchants and outsourcing labor to temps.
G/O Media may get a commission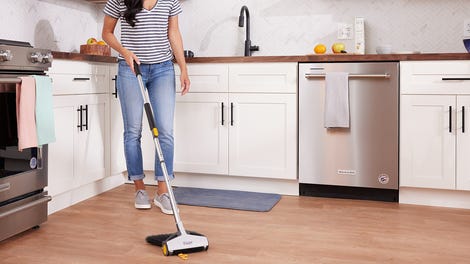 BOGO 50% Off
Flippr - BOGO 50% Off
The standard tech sector model of "move fast and break things" works when engineers can be reassigned from the products they're spinning up if they're shown to be unsuccessful; when those projects increasingly rely on contract—who get left out to dry during these overhauls—it looks less like progress than abusive capitalism.
Here's basically how Express works: Google contracts staffing agencies like Adecco and SMX for "Store Operators," as well as delivery companies like On Trac and Lasership. The operators—on short-term assignments, with few benefits—are sent to partnered stores where they're assigned one or more roles during their shift: pick, pay, or pack. What this means in practical terms is workers for whom Google takes no direct ownership walking the aisles of a Costco or a Home Depot to collect the items individual customers bought online, then paying for those items with the store's point-of-sale system using a Google-branded credit card, and stuffing them into a box—a box which is then loaded into the van driven to your shipping address by someone else Google hires indirectly. That's roughly the chain of events set in motion when you hit "checkout" at express.google.com or the Google Express app.
By having no physical footprint and hardly any actual employees, Google is likely able to drastically keep its overhead for Express at minimal levels, but it also makes for highly manual, inefficient order processing. Instead of a unified system, Express has to mesh with the existing setups (and floor plans) of dozens of merchants. Based on emails provided to Gizmodo, Express operators at Costco go through an eight-step process to pay for orders. Working hours and break deductions have to be entered manually into a Google Form.
The contractors work alongside, but not with, store employees and are overseen by other contractors. And where's Google in all this? "The only people I knew were actually employed by Google were the program supervisor for [my area] and an HR person provided by Google to make sure that SMX were doing things right HR-wise, I'm guessing," a current store operator told Gizmodo. A former operator noted that when assigned to smaller merchants, she could go an entire day without seeing a single supervisor, either from Google or SMX, which she was also contracted through.
A contract between a current store operator and SMX provided to Gizmodo reveals Express follows the same unfortunate trend as many other gig economy jobs of railroading contractors into binding arbitration—agreeing to waive the right to potential lawsuits. Following Amazon's lead in keeping detailed metrics on its workers, Express contractors sign out Google phones each shift that track the rate at which they complete tasks through an app called Express Shopper. Working too slow, these contractors alleged, can lead to "infraction points." Just like Amazon—to which SMX appears to have provided temp workers in the past—points reset 90 days after they're received, but continuing to accrue them can result in decreased hours. Twelve points, contractors said, results in automatic termination. "Even if you take off work for a doctor's appointment or say somebody in your family died, you would still get points for it," a former contractor said. "You can get a point for almost anything."
Tying work to phones also gives Google the ability to monitor contractors' location, Express contractors said. "They know if you're not doing anything for a long time. They will email you about it and say, like, 'why were you not doing anything [...] we saw that you did not move,'" a current operator contended. A former contractor said he received similar emails, though a Google spokesperson claimed location data is not used in this way and, instead, solely assists in routing operators from one item to the next inside a store.
Despite its inflexibility, limited benefits, and slapdash structure, one good thing to be said about Express is its relatively high pay—estimated to be $15 per hour. Still, the temporary nature of the assignments can be made even more temporary by Express's shifting plans. One former contractor, hired through Adecco, told Gizmodo she was forced to reapply to SMX a few weeks into her assignment in order to remain at the same location, only to have that store cease participation in Express months later. Another contractor stationed at Target was informed via email that the retail chain would begin to fulfill Express orders using its own store and warehouse employees at the end of this month.
"When they told people that they were gonna lose their job at the end of the month a lot of people left," he told Gizmodo, "10 people left at least, like walked out, because they were so upset." The email, shared with Gizmodo and reproduced at the beginning of this article, mentioned the possibility of reassignment, but it's unclear how many positions were available for these displaced operators.
A Google spokesperson confirmed Target would abandon contractors at the end of the month, and stressed that any changes would not affect consumers in any way. But the question of why Target would choose to reshape the partnership is an interesting one. Having redundant systems, while at no intrinsic cost to merchants that we're aware of, may have simply been too much of a headache to juggle. "On the executive level I think it was the same goal of the retail store getting more profit because they have an outside source of income and customers," a former operator speculated. "The location itself gets crowded with workers, grabbing a lot of the popular items, which then the local customers would not have access to anymore." Target, at least in some locations, appears to have used its own workers to handle the payment portion of Express orders—and with it taking over the whole of the fulfillment duties starting September 1, it's all but certain to take responsibility for deliveries, too.
Target and Adecco declined to comment for this story; SMX did not respond to a request for comment.
As the number of partner stores dwindles, Google Shopping Express is a far cry from the Amazon killer it was heralded as in 2013, landing somewhere closer to a glorified payment processor. And with overall acceptance of Google Pay falling—perhaps similarly hampered by changing branding and lack of direction— the confused future of Express seems all the more uncertain.
Do you have information about Google Express or other e-commerce platforms you want to share? Send us an email, chat us on keybase, or reach out anonymously via our Secure Drop server.