Despite being a totally excellent online repository for photos—you get 1TB of storage for free!—Flickr feels like an outmoded service. But a huge new update that adds features and a couple of new apps is a big step towards modernizing the service.
Flickr 4.o is here, rolling out across mobile platforms, the web, and desktop. It's everywhere. EVERYWHERE. Additionally, there will be a new app called "Uploadr" for Windows and Mac, which finds photos on your computer and pushes them to a private photo album. Yes, private—which is a nice change from the public setting Flickr's old uploader tool defaulted to, which once accidentally left some of my humiliating photos from college flapping in the internet winds for months before I noticed.

The new Flickr update is pretty significant, and its biggest change is the Camera Roll, which you'll be able to see on the web. This view allows you to sort through your photos either by date uploaded or date taken. There's also a new Magic View in the Camera Roll, which uses image recognition tech to sort your photos into categories like "landscape: snow" and "landscape: water," as in the crazy hokey examples from the Flickr stock image above.
Camera Roll is a beta, and I still can't see Magic View on my account, so it's safe to assume that these features aren't totally primetime or universally available just yet.
G/O Media may get a commission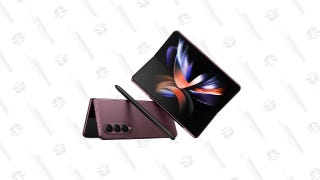 Save Up to $300
Galaxy Z Fold4
The image recognition technology used in Magic View is also being added to Flickr search, so that theoretically, when you search for, say, "pumpkins," you'll get images with pumpkins in them, not just those that say pumpkins. That's a conceptual example. I have no idea whether Flickr's bots actually recognize seasonal produce, yet.
Image recognition tech could be the key to Flickr's success here.
It's that type of tech that made Everpix a very compelling startup before it collapsed under the weight of the server cost associated with hosting huge numbers of photos. Money is something Yahoo can burn in the way a startup cannot. (Lord knows they're good at it.) Sorting and organizing your photos with bots is a very useful service that could pull in users. For example, I'm a longtime Flickr user, but I have no reason to actively participate in the service right now as anything more than a redundant photo backup. In fact, it's almost easier for me to go look for something my Dropbox backup than on Flickr. If, however, Flickr was making my enormous photo collection more useful accessible? I might consider logging in more often.
There are also some neat new features like bulk download, bulk editing, and easier manual sorting. For all the details, check out Flickr's blog.

The new Flickr update seems great, but to reiterate what we've said time and again, it remains to be seen if Flickr's new features will really make it a truly mainstream image service—or if it'll continue to be the totally respectable enthusiast portal it's always been.