You might take a self-driving car home from the bar in five years. Ford announced plans today to build a fully autonomous vehicle to sell to ride-sharing services such as Uber by 2021. The proposed vehicle would not include a steering wheel, gas tank, or brake pedals.

Ford is expediting its race to hit the self-imposed deadline by investing millions into the project. The company has already dumped $150 million into Velodyne through a joint investment with Baidu. The investment is crucial to Ford's new proposal, because Velodyne builds a critical component for self-driving cars called Lidar.
Lidar, short for laser radar, takes the place of human eyes in autonomous vehicles by scanning the terrain and road ahead for obstacles. The vehicle can then adjust its position based on information received by the Lidar system.

Ford is also doubling the size of its staff in Palo Alto, California to more than 300 people according to a CNBC report. Ford will grow its self-driving fleet of Fusion Hybrid sedans driving in California, Arizona, and Michigan to about 30, making it the largest test vehicle fleet of any automaker in the world.
The company's aggressive strategy for building a self-driving car by by 2021 will likely be met with resistance from regulators. One obstacle Ford will face is the US Department of Transportation's strict rules about vehicle design and the necessity for standard, manually operated controls.
G/O Media may get a commission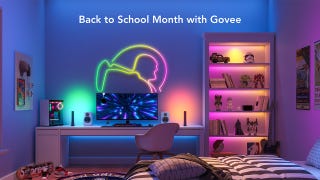 Back to School
Back to School Month with Govee Sale
In March, the DOT released a preliminary report on self-driving cars and it didn't look great for self-driving carmakers. The agency determined that regulators must figure out how to certify a car that completely abandons all precedents set by the current federal motor vehicle safety standards. In most cases, the laws have not caught up with the new technology, and lawmakers aren't in a rush to start bending the rules for emerging technologies that could threaten lives on the road.
The DOT isn't the only agency automakers need to get past, either. The National Highway Traffic Safety Administration has its own set of rules too. People like Chris Urmson, the director of Google's self-driving car project, have been vocal about their displeasure with all the standards.
In February, Urmson penned a letter on behalf of Google to the National Highway Traffic and Safety Administration saying that regulations that require a steering wheel "could be detrimental to safety because the human occupants could attempt to override the self-driving system's decisions." He believes strict rules on emerging technologies could place a ceiling on emerging self-driving car technologies.
So even though Ford has all of the right partnerships in place to start building a huge fleet of self-driving cars, it will still have to clear all of the obstacles. For starters, that means Ford must find a way to legally produce a car without pedals or a steering wheel.