It may seem like we're a bunch of Apple fanboys and, for the most part, we are. However, in the interest of full disclosure and considering we now get to have by-lines, we've decided to expose the innermost secrets of the Gizmodo staff... we present the hardware breakdown part 1.
Read on to see what your favorite Gizmodo writers use on a daily basis or at least have lying about gathering dust.
Big Daddy John Biggs - PowerPC Mac Mini, 12-inch PowerBook G4, Gateway Ultraportable NX100 running XP, Shuttle SFF PC with 2.0-GHz P4 and 1GB RAM running XP and Vista Beta, Toshiba tablet, old Compaq Presario from 1749 running Madriva Linux.
Intern Travis Hudson - Dell Inspiron 700m running XP, normally a custom-built XP PC motto "Live and Die by the Ex-Pee, Yo."
G/O Media may get a commission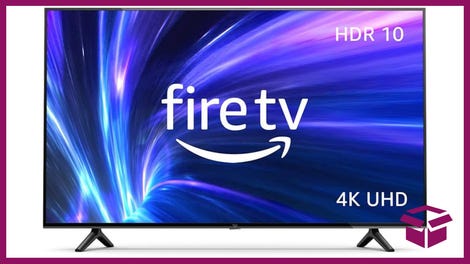 42% Off
Amazon Fire TV 50" 4K Smart TV
Nicholas "Sí Se Puede" Deleon - 12" PowerBook G4
Howling Charlie White - Mac G5, Dell X1 notebook, Dell Precision Mobile Workstation M70 notebook, Dell Precision Dual Xeon Desktop for video production, all running XP except the G5, obviously.
Jason "O-Town" Chen - 12" PowerBook G4 with 1.25 GB Ram, custom-built Intel Pentium D 805 with 2 GB Ram running XP, 12" iBook G4 with 640 MB Ram, custom-built Pentium 4 2.2 Ghz with 1GB Ram, custom-built AMD 1800+ MCE machine with 512 MB Ram.
Joel "Joel" Johnson - MacBook Pro
There you have it. XP users all, we happen to mostly love OS X but we try to keep our hand in a little of everything. What are all you non-Mac fanboys running?