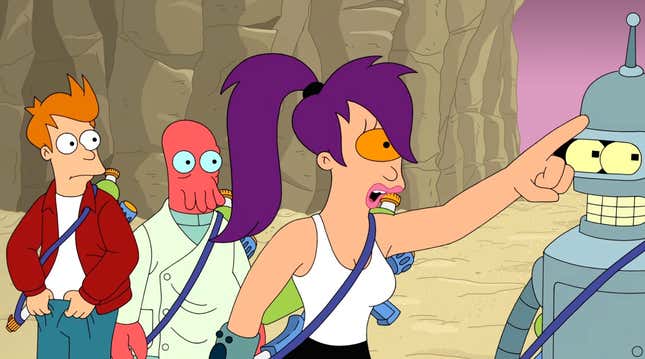 Futurama may have debuted over 30 years after Dune was published, but its homage to the classic sci-fi tale feels like another way the current revival season is tipping its cap to the pop culture of 2023. While we wait for Timothée Chalamet to mount a sandworm on the big screen, the Hulu series is sending team Planet Express on a mystical desert-planet journey of its own.

Meet Microsoft's New Surface Laptops
Except, well, Futurama's version is a lot ickier; the "planet" is actually Nibbler's litter box, and Leela, Fry, Bender, and Dr. Zoidberg have to become micro-sized in order to get up close and personal with its slimy inhabitants. Here's a quick look at the giant worm giving chase to the group, with Fry's feeble frame proving a hindrance when they're trying to escape.
And here's a peek at some of the local wildlife they encounter. Eww!
The full synopsis for "Parasites Regained" is as follows; it reveals a link to a previous Futurama episode, though you don't need to have seen that one to enjoy this newer entry: "Fry can't make it to a date with Leela, so she takes her pet Nibbler instead. He's an ancient alien with great wisdom—though other than that he lives pretty much like a pet cat. They go to see an alien-language film with subtitles. They have a great time, and bond over their shared interest in the intellectual subject matter. Nibbler goes from being a pet to being Leela's good friend.
But then: Nibbler falls ill. He's suddenly getting confused and having trouble with large words. They take him to the vet, and it turns out he has worms. If left untreated, the worms will cause dementia, and the total loss of his brilliant mind. Nibbler, and Leela, are terrified.
The parasites have infested his litter box, which is filled with his precious ancestral sand,. The only hope is to shrink the crew down to microscopic size and send them in to battle the worms. At that scale, it's an epic desert adventure in a Dune-like desert world, inhabited by monster worms and other strange creatures.
The worms turn out to be the same group previously encountered in episode 3.01, 'Parasite's Lost.' A life-and-death battle breaks out, but it's interrupted when ailing Nibbler himself shrinks down and enters the scene like a messiah, calling for peace.
With his great wisdom, he has come to see the beauty of this world in the litter box... how everything depends on everything else in a beautiful web of life. He decides to give up his consciousness, so that these creatures can live on. He is at peace with his decision.
But Leela is devastated. She is determined to find a way to save Nibbler's great mind, even if it means undergoing a very dangerous psychedelic experience in the litter box world."
New episodes of Futurama stream Mondays on Hulu.
---
Want more io9 news? Check out when to expect the latest Marvel, Star Wars, and Star Trek releases, what's next for the DC Universe on film and TV, and everything you need to know about the future of Doctor Who.