When we saw Corwin Ericson's Swell, just accepted for publication, described as "Neil Gaiman's American Gods meets John Barth's Giles Goatboy," we had to find out more. And what we discovered involved terrible technological crimes against whales.
Ericson, the former managing editor of the Massachusetts Review, just sold his novel Swell to Dark Coast Press, a new upstart literary publisher in Seattle. The notice in Publishers Marketplace, which contained the Barth/Gaiman comparison, also described it as a "humorous mystery set on the coast of Maine." We asked Ericson's agent, Rachel Vogel, for more details, and she told us that the book concerns the creation of the Whale Network, which consists of implanting cell phone signals into migrating whales. "Better than an iphone," she says. This will "revolutionize the cell phone industry but also threaten to set longtime warring native cultures on edge," according to the blurb in Publishers Marketplace.
Vogel sent us a longer description of the book, which does indeed sound weirdly Barthian with shades of Gaiman:
Life on the tiny Maine island of Bismuth keeps getting smaller for Orange Whippey. Money and dignity are scarce for islanders, and Orange sees little point in pursuing either. So he's unprepared for adventure on a day that starts with getting stranded on Wreck Rock and ends with an overdose of counterfeit tiger testes and the acute priapism that results.

His troubles mount as he finds himself under the influence of rival whalers from the Northern Indian countries of Europe: Snorri, the sozzled whaleherder who used to be married to a bear; and Waldena, a fierce harpoonist and Thor cult priestess. Snorri and Waldena, along with a pair of happily touristic Korean black marketeers, embrangle Orange in an epic swindle involving drug smuggling, corporate bunco, and a pod of telecommuting whales. As they hop islands and chase mythical whales, Orange tries to play along but winds up stranded, shipwrecked, Shanghaied, beaten and drugged.

The Northern Indians want to make history. The Koreans might open a bed and breakfast. Orange could use some cold beer and a pair of dry socks. They all want to make some easy money, but first they're going to have to find out what a certain whale has to say about it all.
G/O Media may get a commission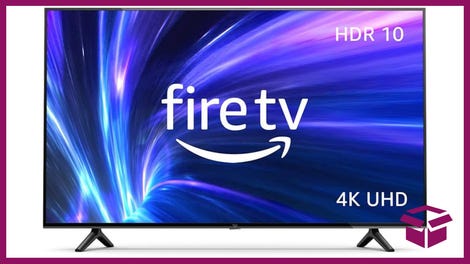 42% Off
Amazon Fire TV 50" 4K Smart TV
No clue when the book's actually coming out, but we'll keep you posted!
Top image by Carlos de la Calle, Shutterstock.