Google's Project Tango lets pocket-sized computers see the world in 3D, which could lead to amazing things. Augmented reality shopping. Indoor navigation. Drones that don't crash into foreign objects. But Google project lead Johnny Lee admits that Tango hasn't seen much interest from phonemakers yet. What might change that? Games, he says.
At Nvidia's 2015 GPU Technology Conference in Santa Clara—the current Project Tango developer kit has an Nvidia Tegra K1 processor inside—he showed off quite a few generic uses cases that Google's prototyping internally, like the ability to map out rooms and even city blocks with nothing more than a tablet. Yet Lee spent most of his time showing off how Tango could be a platform for creative, immersive gaming.
See this picture above? That's a low-res Unity game environment that Johnny Lee created on the fly, simply by waving his Tango tablet around the room and letting it survey the environment. In the real world, he placed a pop-up laundry hamper in the scene. With a few more quick sweeps of the tablet he turned it into a virtual basketball hoop, then shot a few virtual basketballs through the air. One went in. "You can actually start arranging furniture in your house and make fortresses that mean something in a game," he explained.
Or, Tango could let you build MineCraft-like fortresses that exist in fixed locations in your house, but are totally invisible until you turn on your Tango device to go play with them.
G/O Media may get a commission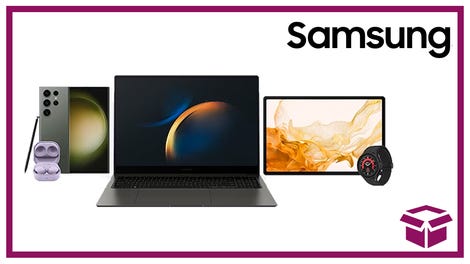 24 hour deals
Discover Samsung - Daily Deal
As you can see, Lee showed off just such a demo, placing blocks one by one right in front of us that we couldn't actually see—yet every time he looked back at the place he'd "put" them—through the window of his tablet, of course—they were still there. "You can just imagine leaving this house in your living room, or leaving castles in your bedroom," he said. Then he leaned down beside the red brick house he'd created, looked right in through the open door, and added some furnishings, too.
When can you expect to get your hands on such an experience, though? That's a good question. The only commitments Google has ever officially made are 1.) The project has ongoing funding, and 2.) an LG device should appear sometime this year with the tech embedded.
Lee couldn't do much better on stage: "There's no product announcement I can make, but this is the platform we're investing in," he told the audience.
But when I catch up with him after his session, he assures me that the technology will make it to market—it's just a matter of when. It's been a bit of a chicken and egg scenario, he says. Device manufacturers haven't been willing to build Tango devices until there's a killer app, and app developers are waiting for an install base of Tango devices before they invest the effort. Games, he believes, could be the low-hanging fruit that cause both to jump in.
Google's already working with a few game developers to try and make that happen.