Alien: Covenant was released in China on Friday, and moviegoers were quick to point out quite a few significant changes. Not only were several of the alien scenes removed, having them on screen for less than a couple of minutes... but Chinese censors also pulled the film's gay kiss.

During the film, identical cyborgs David and Walter (both played by Michael Fassbender) ended up having the most surprisingly powerful romance in the entire film. There was that rather erotic scene where David teaches Walter how to play the flute. As Walter starts to blow into the flute, David whispers in his ear: "I'll do the fingering." Then, after David tells Walter that no one will love him like he does, the pair share a kiss.
Unfortunately, that kiss ended up on the cutting room floor before its China release, leaving audiences feeling like something was missing, according to The Hollywood Reporter. This isn't related to Alien: Covenant's gay couple, played by Demián Bichir and Nathaniel Dean, as their relationship was barely explored in the film. There was a prologue released online that showed them kissing and cuddling, but it wasn't included in the movie.
Over the years, the Chinese government has implemented censorship laws on films and shows, under the guise of protecting children from sexual or violent imagery. Chinese TV shows are forbidden from showing gay relationships, but films don't have the same restriction. Even so, it's not surprising that the kiss between David and Walter was cut, as censors err on the side of restrictive when it comes to LGBT representation. Brokeback Mountain was denied a release for its depiction of a gay relationship, and Best Picture winner Moonlight's prospects of getting a release are slim-to-none by this point.
G/O Media may get a commission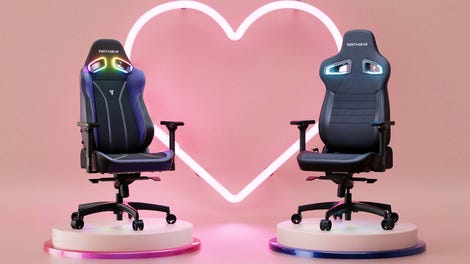 Up to $150 off
Vertagear Gaming Chairs
Chinese censors tend to deny films with overt LGBT sexuality but are looser when the character's sexual orientation is implied. For example, Power Rangers was approved as-is, despite a scene where the Yellow Ranger questions her sexuality. Beijing authorities even praised their own tolerance when they allowed Beauty and the Beast's LGBT-lite dance scene to stay in the film.
Altogether, about six minutes of footage was cut from the Chinese release of Alien: Covenant, with most of it being scenes of blood and gore, focusing on the aliens themselves. According to a post on the Baidu message board, the removed footage meant the actual aliens were only on screen for a total of one to two minutes, making the whole experience "extremely frustrating."