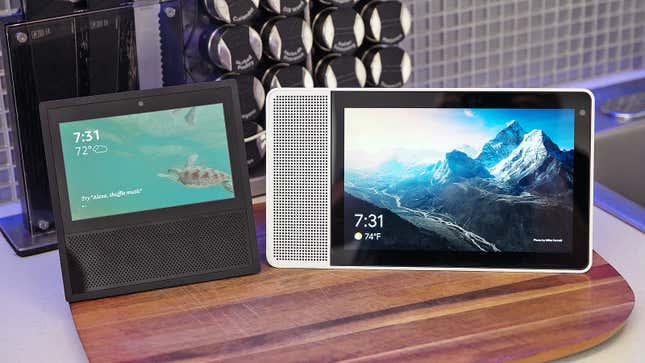 People often ask me, "What's the point of a smart speaker?" Because as nice as it is to check the weather or set timers using your voice, those tasks can be performed just as easily on a smartphone.
Vizio's Latest TVs Go All Quantum
However, if you have things like smart lights, home security cameras, or a multi-room sound system, smart speakers start to become an essential hub for controlling those devices. And when Lenovo teamed up with Google to make its first smart display by slapping a screen onto what would otherwise be a traditional smart speaker, the two companies took the concept of a smart home hub and turned it into a smart home command center.
That's why it's exciting to hear a report from Nikkei claiming that Google is planning to release its own homegrown smart display later this year. Not only would this expand the Google Home family, which currently consists of the standard Home, the affordable Home Mini, and the more premium Home Max, it would also provide a true first-party competitor to Amazon's Echo Show.
Nikkei says Google is planning to ship as many as three million of its upcoming smart displays, which Nikkei's source called "an aggressive plan."
However, after reviewing the Lenovo Smart Display, I have one big question: How will Google differentiate its first-party Google Home with a screen from Lenovo's Smart Display, or other upcoming smart displays from JBL and LG which are supposed to arrive sometime this fall.
Because Lenovo's devce already runs a stock version of Google's Android Things-powered Smart Display UI, you'd expect anything that Google makes to have the same features and interface. Sure, Google's device will almost certainly sport a cute and friendly design, perhaps with the mesh fabric and pastel colors seen on the Google Home Mini. But is that really enough?
Well if you'll allow me to speculate a little, some things I'd like to see include better support for both landscape and portrait orientations. On Lenovo's display, the only thing that really supports portrait mode is making calls using Google Duo, while everything else is restricted to landscape. I also wouldn't mind seeing a design that features a better integrated speaker setup, since the speaker on the left side of Lenovo's display does make its footprint a bit bigger than it really needs to be.
Another way for Google's gadget to stand out would be to borrow some expertise from Nest, and let Google's device serve as a thermostat (without needing to have a dedicated wall unit), or add in a more robust camera so the device could double as a home security camera.
No matter what Google eventually releases, with almost thirty percent of U.S. households already owning some kind of smart speaker, it's clear the proliferation of assistant-powered smart devices is gaining speed fast. In the meantime, I just want all these smart speaker things to be as useful as possible, and the addition of screen is a big step in getting there.
[Nikkei]