This isn't hyperbole. Between Apple's ARKit and the new ARCore tool announced by Google, a viable form of augmented reality, the ability to witness an computer-augmented version of our world, is about to come to a whole lot of phones, and will be available on every Android and iOS phones going forward. That sci-fi future shitty movies in the 90s promised us is perilously close.
Until today it didn't seem that way for Google. While Apple focused on an AR solution that worked with any phone, Google has been publicly focused on an AR solution that seeks accuracy over ubiquity. But the problem was that solution, Project Tango, is some cool hardware with no legs. No one wants to embrace a platform that requires a big honking camera on the back of second tier Android phones. Instead developers, who make an break a platform like ARKit and Tango, preferred Apple's less accurate software solution. "As tempting as it is to be on the cutting edge of technology, AR simply didn't have an accessible platform for users until [ARKit]," Asher Vollmer, the app developer behind the popular game Threes told Gizmodo recently for our review of Asus' new Tango-ready device. Vollmer is one of many app developers who have been enchanted by ARKit and the ability to put AR on every iPhone.
ARCore, Google's new AR tool, changes things significantly. As with ARKit it favors ubiquity over accuracy. So while you shouldn't use either to measure a window for curtains you could, potentially, use AR-enabled devices from Android and Apple to navigate a new town or play some sweet Star Wars holochess.
The move by Google to release ARCore is a major no brainer, particularly as Google has had such technological success with Tango. "We've been developing the fundamental technologies that power mobile AR over the last three years with Tango, and ARCore is built on that work," Dave Burke, VP of Android Engineering, said in a blog post.
For now ARCore, which entered the preview stage today, will work with the Google Pixel and Samsung Galaxy S8, but Burke said Google is hoping to have 100 million devices running ARCore by the end of the unspecified preview period. As for other partners, the company is "working with manufacturers like Samsung, Huawei, LG, ASUS and others to make this possible with a consistent bar for quality and high performance."
G/O Media may get a commission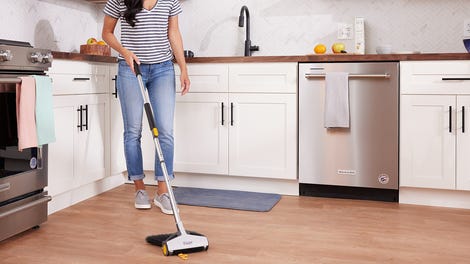 BOGO 50% Off
Flippr - BOGO 50% Off
If you want more examples of what AR can do Google's also got a page full of AR experiments. Indoor AR fireworks and stick figures dancing in the light of a Google Home are not exactly useful, but they're definitely cool as hell.