A coating of hairy electronic skin could soon help robots feel the slightest breath of air or detect the faint vibrations of a beating heart.
Kahp-Yang Suh and colleagues at Seoul National University in South Korea wove together thousands of individual polymer nanohairs to make a flexible touch sensor that is more sensitive than human skin.
The idea for the device came from the interlocking of cells in human hair and organs.These organically woven-together cells translate inputs of force into electrical signals that are then interpreted by the brain. Similar to their organic counterparts, the 50-nanometre-wide hairs of Suh's device twist and bend against each other when an external force like a beating heart or a soft touch is applied.
The contact between the hairs generates an electrical current which the sensor identifies as specific changes in pressure, shear or torsion. These results are displayed on a computer monitor in real time.
Researchers demonstrated the sensor's extreme sensitivity in more than 10,000 test cycles. It could detect the dynamic motion of a tiny water droplet bouncing on a hydrophobic plate and the physical force of a heartbeat. A skin of hairy sensors like these could clothe prosthetic limbs and robots. [Journal reference: Nature Materials]
G/O Media may get a commission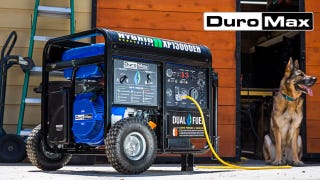 Black Friday Sale
DuroMax Generator Sale
Image by Changhyun Pang et al
---
New Scientist reports, explores and interprets the results of human endeavour set in the context of society and culture, providing comprehensive coverage of science and technology news.