At day two of I/O, Google repeated pretty much the same keynote, but it also finally announced Chrome for iOS. After a tortuous wait, it's landed in the App Store this afternoon, and I spent some time using it. And it's not quite what you'd hope.
Using It
Though Google framed it as being very similar to the same desktop browser we know and love, it's not. Chrome for iOS doesn't seem particularly intuitive. You tap the top right hand corner to see all your tabs. There you can select a different page, dismiss another by, or start a new tab. Once you're on a page, you can click the icon that has a stack of three lines for your options including new tab, incognito tab, bookmarks, other devices (for syncing), email, find in page, settings, and help. When you're on one page, you can go to another one by swiping. Google said this was simple. But you have to swipe hard. Seriously, it takes some force.
New Tabs and Syncing
When you bring up a new tab, you get something that is pretty familiar to the desktop version. At the bottom of the screen, an icon with six boxes will show most visited sites. To the right, the star obviously is for bookmarks. And the far right icon, which resembles a file folder, is your friend. Here you'll find all the tabs you have open on your computer. So if you were in the middle of a lengthy New Yorker article, you can pick it up without losing your spot. This of course is a signature feature of Chrome, but it was nice to have the 10 or so pages I had loaded up across the two screens of my computer automatically appear. And that is a pretty compelling reason to use Chrome as your default. Save for one problem—speed. Or rather, lack thereof.
G/O Media may get a commission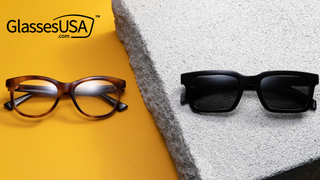 60% off frames
GlassesUSA.com Back to School Sales
Slowness
Load times are slow and the browser lags when you scroll. Part of the problem is Chrome is inherently slow. It's just the way non-Safari iOS browsers are forced to work. Safari uses a Javascript engine called Nitro, which relies on something called "just-in-time" compilation or JIT. Nitro is fast because of JIT, which makes Safari swifter. But other browsers have to what's basically an older, pokier version of Nitro. And that sucks. You know how when you're trying to show someone a link on your phone and it takes forever to pull up the page? Maybe you're on a slow connection or in a dead spot, but you both sit there, silently, making painful, forced smalltalk as you try just try to look up the Jonestown Massacre on your iPhone. "How's your mom? She still in Florida—oh thank GOD. Cult leader Jim Jones." It's uncomfortable. And you're going to have a lot of those moments with Chrome for iOS.
Final Impressions
Syncing and auto-complete are both convincing reasons to use Chrome, but without the speed you might find yourself running back to Safari. This is a case of choosing what features are more important to you, because of course, there are trade-offs.