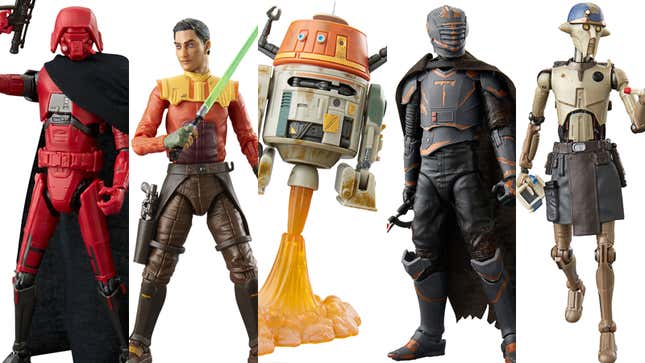 Ahsoka is here at last, and with it, the deluge of Star Wars tie-in merchandise that is customary any time the galaxy far, far away even twitches in the presence of new media. As part of a livestream today Hasbro revealed a ton of new toys and figures based on the series after teasing some at San Diego Comic-Con this summer—and we've got a closer look.
We're glad Hasbro agrees with us mostly, that some of the standouts of Ahsoka so far are actually its droids rather than any of those pesky organics. While there's plenty of them to be found across Hasbro's Black Series, Vintage Collection, and Retro reveals today—check out our exclusive debut of the Ahsoka retro figures here!—the highlights are Chopper, Professor Huyang, and Morgan Elsbeth's sleek assassin droids all getting new figures, for the first time ever in Huyang's case.
As well as new action figures, Hasbro also revealed that its latest addition to the Black Series roleplay helmet line is—to the surprise of no one who's kept up with them in recent years—another Mandalorian helmet, this time Sabine's updated bucket inspired by its appearance first in the final season of Star Wars Rebels, and then last week's Ahsoka premiere.
Click through to see pictures of all the reveals, ahead of pre-orders opening up tomorrow, August 30, at 1:00 pm ET on Hasbro Pulse and at other major retailers—for everything but the Retro Collection toys, which are currently estimated for a release in fall 2024. Everything else should be coming a little sooner, either later this year or early next.