Ridley Scott isn't just directing the Alien prequel, he's also involved in a movie adaptation of Brave New World, as we reported last year. A screenwriter's on board, but Leonardo DiCaprio's mooted star turn is raising some concerns.
We spoke to Scott last year, and he confirmed that he was planning to film Brave New World, but with a screenwriter in place and more meetings happening, it sounds as though the project is being moved onto the fast track.
G/O Media may get a commission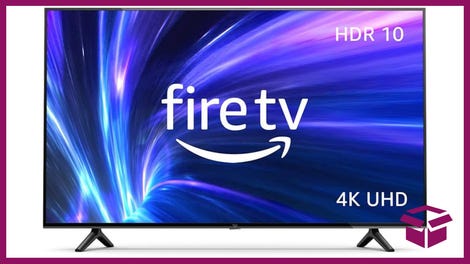 42% Off
Amazon Fire TV 50" 4K Smart TV
The Hollywood Reporter's Risky Business blog says Scott and DiCaprio will produce the film through Universal Studios, and "Scott will produce with an eye to direct." And DiCaprio is still on board to star in the project, since he doesn't have anything lined up after he finishes filming Christopher Nolan's Inception. And a writer has been announced: Farhad Safinia, writer of Apocalypto.
THR thinks DiCaprio would play Bernard, who starts to question the decadent, destructive values of the false utopia he lives in. And the Guardian's Ben Child is already raising some worries that this choice will water down the film's dynamic:
I'm aware that this is going to solicit a torrent of posts berating me for suggesting that the film has to be exactly like the book, but in Huxley's tale, Bernard faces the scorn of society because, despite being a member of the elite Alpha Plus class, he is short, like the mindless Epsilons (and also because he adopts an individualist attitude and spurns Soma). The tall, handsome DiCaprio seems uniquely unsuited to play him - an actor such as Philip Seymour Hoffman or Paul Giamatti springs to mind - though it should be remembered that the actor has done a fine job playing troubled outsiders before, notably in Martin Scorsese's The Departed (not so much in The Beach, where his golden boy good looks completely destroyed the book's dynamic).
Since DiCaprio's production company, Appian Way, owns the movie rights to the novel, there's probably no way to keep him out of it in any case.
But it's still tremendous cause for excitement that Scott — a mere couple years after suggesting that science fiction was dead — is now being linked to three projects: the Alien prequel, Brave New World, and The Forever War. Let's hope we see one of those in the next few years. [THR]