Even for Pixar, Inside Out is an ambitious film. After all, it's largely set inside the mind of an 11-year-old girl, and tries to metaphorically explain all of the wonderful, frustrating, and confusing things that go on inside the human head while exploring a sort of emotional truth. So how on Earth did it all come together?
"What if we told the story of a little girl growing up, but she's not the main character — she's the setting?"
That's how Inside Out director Pete Docter and producer Jonas Rivera pitched their mental movie to Pixar's chief creative officer John Lasseter. Lasseter immediately fell in love with the pitch and so a team went to work bringing the inside of the human mind to animated life. Along with other members of the entertainment press, we got to visit Pixar and talk to the filmmakers about the film — everything from the initial germ of the idea to the storyboarding, layout, lighting, and what Amy Poehler, who voices the emotion Joy, brought to the film.
Inside Out focuses on Riley (Kaitlyn Dias), an 11-year-old girl from Minnesota who moves to San Francisco with her parents (voiced by Diane Lane and Kyle MacLachlan), an event that throws her into emotional turmoil. So we spend much of the movie with those riled emotions: Joy, Sadness (Phyllis Smith), Fear (Bill Hader), Anger (Lewis Black), and Disgust (Mindy Kaling). Joy has long been Riley's chief emotion, but after an incident at headquarters, where the emotions live and work, Joy and Sadness find themselves wandering through Riley's mind, trying to find their way back home.
G/O Media may get a commission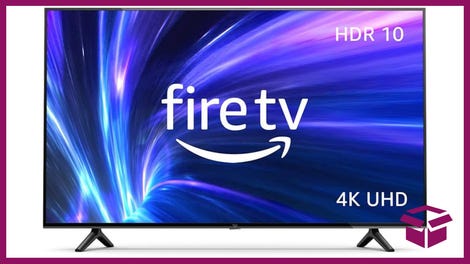 42% Off
Amazon Fire TV 50" 4K Smart TV
It's inspired by Pete Docter's daughter, but it's really about being a parent.
Watching is own daughter, Elie (who provided the voice of young Ellie in Docter's earlier Pixar film Up), Docter noticed something was changing. The bright and cheerful girl who had once inhabited his home had been replaced by a sullen and withdrawn pre-teen. Docter wondered: What was going on inside that girl's head? Where some parents might have left it at wondering, Docter turned his exploration of those questions into a film, and he had help from the other parents on his team.
At Pixar, the filmmakers are always telling each other stories, co-director Ronnie del Carmen explained to us. So there are bits of the filmmakers' real families in Inside Out. One person told a story about his daughter running around the house shaking her bum at him, and that went into the movie. Docter has taken roadtrips with his family from Minnesota to California, and that went into the movie.
You also don't want your kids to be sad. That's not just in the movie; it's one of the film's main themes.
In a separate interview, del Carmen said to us, "We wanted to tell the story about our kids, our daughters, what they're going through. But in the end, we ended up telling the story about ourselves and having daughters." When something goes wrong in a child's life, he notes, "We want to be able to do something about this. That was our instinct to try to let Joy fix the problem. This is something that didn't happen. We exposed that we're making this about ourselves."
The movie has already had a profound real-world effect on the filmmakers. Rivera told us that he now sometimes thinks about his own parenting in terms of the movie's emotion characters. He admitted that, when he tried to explain to his young daughter that the family dog had died, caught himself immediately assuring her that the dog was in heaven with lots of chickens to chase and hamburgers to eat. "I realized that wasn't okay," he said. "Inside my head, Sadness took the wheel and Joy pushed her back." He said Poehler felt the same way, telling him, "I say 'Don't be sad.' I tell my boys not to be sad. Why do I do that?"
Real psychologists consulted on the film.
If you're going to make a movie about emotions, it helps to understand what emotions are and which ones are driving our feelings. The team consulted with Paul Ekman, the psychologist who pioneered microexpressions research (the stuff you see dramatized on the show Lie to Me). In Ekman's research, he catalogued what he believed to be six universal emotions: anger, disgust, fear, happiness, sadness, and surprised. (He's since expanded that list of basic emotions.) The filmmakers decided to drop surprise, which, from a narrative perspective, felt too close to fear.
"We use research in service of story," del Carmen explained. "We can't be rigidly following it." They try to stay within certain lines of real-world research while being creative with what they've learned.
The filmmakers also looked at research into memories and how they're encoded in the brain. They were particularly excited about one idea: that when you recall a memory, it is played and re-encoded in your mind. That means that an event that seemed happy at the time can be become a sad memory after we replay it. This concept that memories are changeable and that they may be linked to different emotions at different times in our lives, ended up being a key to the entire film.
And for the record, yes, the filmmakers considered the question as to whether Riley has free will. They had to make a decision: is Riley her emotions, or is she separate from her emotions? In that case, Docter and Rivera realized, it would be hard to say that Joy really loves Riley — it would be like saying a human being loves their car. So the emotion characters don't actually control Riley's actions, they just control whether she feels angry or disgusted or sad. What Riley does with those emotions is up to her.
The two worlds don't just look different; they're filmed in completely different ways.
When watching the trailers and clips for Inside Out, you may notice that you can instantly tell whether you're looking at the outside human world and the inside mental world. A whole lot of production design went into achieving that immediacy.
Inside Out is both more and less cartoony than Pixar's previous efforts. The inside characters are more like two-dimensional cartoon characters both in their design and their movements. The human characters, by contrast are somewhat more realistic than the human characters in other Pixar movies.
The separation between our world and the mind is pushed in other ways. Although the movie is set inside the mind rather than inside the brain (an important distinction for the filmmakers), they did draw inspiration from the human body. Riley's mental headquarters is inspired by images of brainbows, a technique for flagging individual neurons in the brain using fluorescent proteins. The endless maze that is Riley's long-term memory is inspired by the folds in the brain. There's a recurring hypothalamus motif that you'll see on doors and vehicles in the mind. (Lasseter, not realizing it was supposed to be a hypothalamus, once referred to the motif as "toast.") Riley's new house in the outside world is based on a real house on a real street in San Francisco. (No, they wouldn't tell us where it is.)
Color, texture, and light are also used as subtle indicators of story. When Riley is young and living in Minnesota, the outside world is painted in pastels and filled with soft patterns. When she moves to San Francsico, however, the colors of the outside world become desaturated. We see a lot of material textures, but not a lot of reflection. The world has become harsher and more muted — and the saturation level even changes to reflect Riley's shifting state of mind. Meanwhile, the inside world always has its color saturation turned up to eleven, and the surfaces are smooth and shiny and perfect.
Even the digital camera work changes with the emotions and settings. Patrick Lin, who heads up layout and photography, explained that, in the first act, the inside world is filmed in the style of a 1930s-era studio camera, with graceful, sweeping movements. But in the second and third acts, there's a shift to a more agile mechanical camera, with a much faster pan and tilt. For the outside world, the camera is at first looser and, Lim says, "more joyful." And as Riley's emotional state becomes less focused, the camera work reflects that, sometimes even using "imperfect focus" to "miss" the focus in key shots. In the third act, the outside world is captured in a style that mimics handheld cameras. It's shot much like live action, filming existing animation.
Everyone hated Joy for a long time.
Joy was, far and away, the hardest character for the team to crack because, in earlier versions of the film, she was so freaking annoying. As the movie started to advance from concept to fetal film, people kept telling Docter and Rivera, "I don't like Joy. I'm not rooting for her. I am annoyed by her."
Over the course of a 90-minute, a perpetually optimistic character can come off not just as grating, but also phony. That's a problem when your main character is the living embodiment of childhood optimism.
One thing that helped the team figure out Joy was by casting Amy Poehler. Bill Hader was actually the first voice actor cast. (He just showed up at Pixar one day to visit because he really liked the movies; the relationship developed from there.) And each of the actors brought their own ideas to their characters. Hader decided that Fear would be the most prepared of the emotions, often speaking in lists. Mindy Kaling immediately understood that Disgust was disgusted without having a disgusting personality. Lewis Black was actually mentioned in the initial pitch meeting as the perfect person to voice Anger.
But Docter and Rivera were particularly impressed with what Poehler brought to Joy. She managed to give the character a sarcastic and undercutting edge that prevented Hoy from slipping into the saccharine. "I can get away with saying things that most people can't," she told them. And, in her opinion, she successfully walked that bubbly line.
(Speaking of bubbly, that champagne effervesce on the emotion characters? That was originally just supposed to be on Joy. The team was actually thinking about ditching the effect altogether because it was so expensive to produce. When John Lasseter saw a cut of the fizzy effect on Joy, he loved it and declared that it should be on all the characters. "You could hear the poor technical staff hit the ground and the budget fly through the roof," joked production designer Ralph Eggleston.)
The other thing that transformed Joy from an annoying character to an appropriately flawed one was finding the right story. In earlier versions of Inside Out, Joy kept steering Riley toward some sort of social storm: Riley was in a play and Joy overreacted, pushing the other kids away; Riley came back from camp to discover that her friends had grown out of childish games, and Joy kept insisting on staying young and goofy. The problem was that you couldn't root for Joy if she was hurting Riley. So instead they worked toward a story where Riley's problems were external and Joy couldn't immediately solve them.
There's a moment early in the final version of Inside Out where Riley has a bad day, and Joy bends a rule to prevent Riley from having nightmares. To Rivera, that's a moment that perfectly captures Joy: She genuinely loves Riley and is trying to protect her. It's just that, sometimes, Joy's own nature gets in the way.
Joy wasn't always paired with Sadness in the movie, either. In earlier versions of the movie, she was wandering Riley's mind with Fear. But in the end, the filmmakers decided that sadness was the most interesting emotion to explore. After all, it's easy to understand why joy, fear, anger, and disgust are useful emotions, but what good is feeling sad? Sadness struck them as the most mysterious of the emotions and they wanted to probe that mystery.
Plus, sadness fits well with the bittersweet theme of watching a child grow up. "There's a childhood joy that goes away," Docter said, "that once you've been exposed to the brutal reality of the world, it's gone. So that's sort of a rite of passage. Something beautiful and necessary but sad about that loss."