Whether you've picked an Android or Apple smartphone, there is an official beta program you can sign up for that will give you a sneak preview of upcoming features in return for one or two bugs. Here's how to sign up and sign out of the iOS and Android beta tests.
As we've mentioned before when talking about beta software, you're responsible for anything that happens to your phone and data afterwards. This is software not yet ready for the masses, and you should expect one or two bumps along the road.
That said, the beta versions of iOS and Android should run fine on the majority of devices and with the majority of apps out there. We're often running devices in beta mode without coming across any hitches but don't send us any angry emails if pre-release updates should bork your smartphone.
Beta software "may contain errors or inaccuracies and may not function as well as commercially released software" says Apple. Google puts it like this: "The updates that you'll receive as a part of this program are pre-release versions, and may contain errors and defects that can affect normal functioning of your device."
If that's all understood, we can proceed...
---
Joining and leaving the iOS beta
G/O Media may get a commission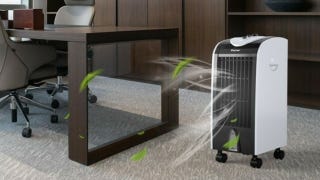 Save $10
Evaporative Portable Air Conditioner Cooler with Filter Knob
The iOS beta program is a little more straightforward than the Google one and it's open to a greater number of devices: basically any iPhone or iPad that's still getting iOS updates.
Head to the Apple Beta Software Program landing page, click Sign up, and supply your Apple ID details. On the next page you need to select iOS and then enroll your iOS device, at which point you're prompted to make a device backup (always a good idea if you're signing up for beta software).
Next, head to https://beta.apple.com/profile on your iOS device, sign in again, and tap the Download Profile button. Follow the instructions on screen, and beta software will start appearing over-the-air just like any other iOS update.
None of your apps or data should be affected, but this is a beta trial, so perfect performance isn't guaranteed—hence the prompt to create a backup earlier on.
Those beta updates will continue to arrive until you opt out of the beta program again. To do this, open Settings and tap General then Profiles and iOS Beta Software Profile. Tap Delete Profile and the next update you get will be a stable version.
That's it—you're out. For completeness you should also click the Leave Apple Beta Software Program link on this unenroll page so Apple knows you've quit the program.
---
Joining and leaving the Android beta
Only a limited number of devices are eligible for Google's official program, basically everything that's eligible for future stock Android updates, minus the Pixel phones.
That's the Nexus 6P, Nexus 5X, Nexus 6, Nexus 9, Nexus Player, Pixel C, or the General Mobile 4G (an Android One phone).
If you've got any of those devices, head to the Android Beta Program page and you'll be asked to sign in using your Google credentials (plus a two-factor authentication code, if you've got the feature set up).
All of the devices associated with your Google account are shown—next to any eligible phones and tablets you'll see an Enroll Me button. Click this and once you've confirmed your choice, the device will get an over-the-air update with the latest beta.
As on iOS, beta updates continue until you opt out. Head back to the same device list page and click Unenroll Device next to the phone or tablet you'd like to return to a stable version of Android. Again, this appears as an over-the-air update.
There's one important point to remember about quitting the Android beta though: your device is wiped in the process. Make sure all your important files (music, photos, etc) are safely stored in the cloud before you proceed.