In Los Angeles, the transition from spring to summer is heralded by the blooming of jacarandas, a photogenic tree that explodes in bright lavender fireworks and sprinkles flowers across the city like purple rain. But as I Instagrammed my sneakers against the rubbery petals the other week, I had a nagging feeling—this was way too early for jacarandas.
Instagram is a funny thing. Besides its skills for swiftly distributing an annoyingly large number of photos of my newborn child to the world, it serves as a very good tool for tracking the physical world around me. Among the well-annotated visual timeline of my activities since 2012, I have hundreds of photos of LA's urban nature, most of them geotagged to specific places in the city.
It's social media's ability to so easily capture and share these observations that inspired a new citizen science project, using tools like Instagram and Twitter to document evidence of climate change.
G/O Media may get a commission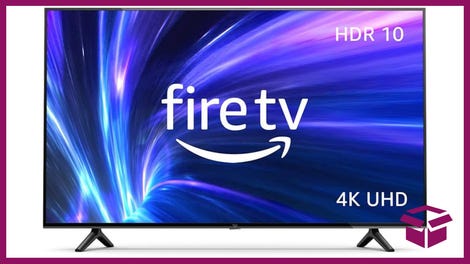 42% Off
Amazon Fire TV 50" 4K Smart TV
The project, named ISeeChange, was founded in 2013 by environmental reporter Julia Kumari Drapkin, who dreamed up the experiment while reporting on climate issues in Western Colorado. This year, the program expands nationally, with eight radio stations across the country recruiting reports, as well as a partnership with NASA scientists working on the Jet Propulsion Laboratory's Orbiting Carbon Observatory, the first dedicated satellite for studying atmospheric carbon dioxide.
Participants are noticing changes that range from early-blooming flowers to birds that have altered their migration patterns
The idea is to get people to start paying attention to the tiny hints that nature provides in our daily lives, says Drapkin. "It's the little changes—the details we see on our regular walks, in our homes, the small talk at the post office or the corner store—that can add up to big, big differences."
The participatory element of ISeeChange addresses a chronic issue for environmental journalists: Making science stories more accessible. Molly Peterson is working on the project from partner station KPCC in LA, where the early blooming jacarandas I noticed are actually the topic of her first segment. Using a tool like Instagram or Twitter to teach science instantly makes it more relevant to listeners, says Peterson. "If we do stories on a report that comes out with some scientific finding that's predictive it all feels very remote and overwhelming," she says. "But this is the idea that you could look around and see something yourself."
The #ISeeChange hashtag on Instagram and Twitter is filled with photo and video observations, like these Velella jellyfish swarming a Marina del Rey beach
There's also a very real chance that citizen scientists could see something that scientists didn't—after all, a recent citizen science program with the city's Natural History Museum uncovered 30 new species of of flies. But I worried that using something like Instagram, which might be seen as a, um, frivolous thing, might be pooh-poohed by scientists. In fact, Peterson says the scientists she talked to thought it was the perfect data collection tool: The success of citizen science is dependent on people diligently reporting their findings, and the ease and immediacy of social media ensures that essential information—date, location, visual description—is accurately captured.
Whether or not ISeeChange will make some key findings about climate change, one thing is for certain: It's been a particularly wacky year for weather so far and the project will at least make sure this unusual 2015 spring is very well-documented. You can help simply by using the hashtag #ISeeChange, so go forth and take more selfies in the name of science. [ISeeChange]