Tropical Depression Nate, the former hurricane which pummeled the Gulf Coast near Louisiana, Mississippi and Alabama at Category 1 status early Sunday, has made the 2017 hurricane season one of the worst on record since 1893 and possibly earlier.

As Colorado State University meteorologist Philip Klotzbach noted on Twitter this weekend, the last time nine consecutive named storms hit the Atlantic was 1893, when 10 storms reportedly hit the coast—though since weather reporting techniques were less rigorous in that time period, it's entirely possible those prior records were inaccurate.
The number of individual storms is not in and of itself extraordinary yet, but the speed at which the Atlantic Ocean is churning them out consecutively is highly unusual.
G/O Media may get a commission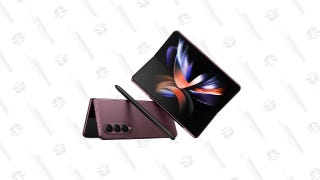 Save Up to $300
Galaxy Z Fold4
As the Weather Channel noted, the number of hurricanes which hit the US in 2017 was four—Harvey, Irma, Maria and Nate—the worst such season on record since 2004 and 2005, both of which saw five storms hit the US. But the intensity of some individual storms has been far worse; since records began being kept in 1851, never have three Category 4 storms (Harvey, Irma and Maria) hit the US or its territories in the same year. And the impact on the US and particularly the Caribbean has been devastating, with numerous cities and islands ravaged by the consecutive storms.
Per USA Today, Klotzbach said 2017's "Accumulated Cyclone Energy," a statistic for measuring the cumulative power of storms in any one hurricane season, was the highest since 2005. The average Atlantic ACE to date is 86, while Irma alone ranked in at 67.5.
"There is no question that this is already going to be one of the costliest Atlantic hurricane seasons on record," meterologist Steve Bowen, who works for global reinsurance company Aon Benfield, told USA Today. "... The third quarter of 2017 is expected to tally as one of the costliest quarters ever registered for natural disasters."
There is also still months left in 2017's hurricane season, which does not officially conclude until November 30th.
Hurricane seasons cannot be easily pegged to any one factor, and powerful storms have ravaged the US before. As National Geographic noted, however, one factor is that atmospheric conditions were ripe for the formation of intense storms and warmer-than-normal ocean temperatures provided plenty of fuel to keep the storms going.
MIT atmospheric scientist Kerry Emanuel told the magazine the warm water gave the tropical Atlantic a high thermal potential, "a thermodynamic speed limit on hurricanes. The greater the speed limit, the more favorable conditions are for hurricanes to form, and the more powerful they can get."
The most recent U.S. Climate Science Special Report noted that measuring warmer global temperatures' impact on hurricanes is difficult, but that it is likely to make wetter, more intense tropical cyclones more likely in the years ahead.