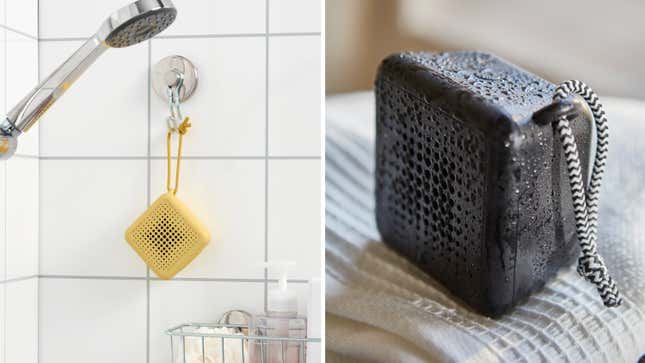 Ikea as a brand is already synonymous with well-designed and affordable furniture, but it seems like it also might have aspirations of becoming the Swedish Sony, given its continued push into consumer electronics under the Vappeby brand. Its latest wireless speaker is light on features, but more importantly, it's even lighter on price. All without requiring users to assemble it themselves!
What Motivated Simone Giertz To Build Her Own Tesla Pickup Truck? | Gizmodo Talks
The furniture maker first tip-toed into consumer electronics with USB chargers and even rechargeable batteries that delivered performance on par with pricier alternatives, but has since expanded into everything from air quality monitors to air purifiers to wireless speaker solutions, thanks in part to a collaboration with Spotify.
Revealed a little less than a year ago, Ikea's first product bearing the Vappeby branding was a portable lamp/wireless speaker combo boasting one-button access to Spotify, IP65 dust and water resistance, LED lighting, and a design that blasted audio in all directions, making it an ideal centerpiece for a backyard party. The latest addition to the Vappeby line shrinks things down considerably, and is designed more to tag along on a trip to the beach or pool, or keep you company in the shower every morning.

The Vappeby portable Bluetooth speaker promises up to 80 hours of playback on a full charge at 50% volume, but having not yet had a chance to go hands on with it, we don't know if that's actually loud enough to be heard over the sound of water blasting out of a shower head. Two of the speakers can be paired together for true stereo sound, while durability has been boosted to an IP67 rating, which means that it's not only dust and water resistant, but it can also survive a complete submersion for up to 30 minutes.

What makes the new Vappeby portable Bluetooth speaker appealing is its price. It looks comparable in size to the Ultimate Ears Wonderboom 3—one of our favorite portable waterproof speakers—but instead of costing $100, Ikea is selling the new Vappeby for just $15. And it comes in three different colors. We're not expecting it to sound as good as the Wonderboom 3, but if you're looking for a cheap wireless speaker to leave hanging in your shower, for $15, Ikea's probably sounds good enough.