It seems strange that a remote patch of water would become the focus of international controversy and millions of dollars worth of infrastructure. But that's exactly what's happening in the South China Sea right now.

At a news conference today, China's Foreign Ministry spokesperson spoke about the country's project to reclaim seven reefs, turning them into actual islands using massive dredging machines that suck sand off the ocean and floor and deposit into the shallows using long hoses. "We are building shelters, aids for navigation, search and rescue as well as marine meteorological forecasting services, fishery services and other administrative services," said the spokesperson, according to Reuters.
Why was China holding a press conference about its activities?
CSIS Asia Maritime Transparency Initiative / DigitalGlobe.
Well, for one thing, the US Defense Secretary is visiting nearby this week, and China was defending its actions to further its claim to pieces of disputed land that many of its neighbors also claim.
G/O Media may get a commission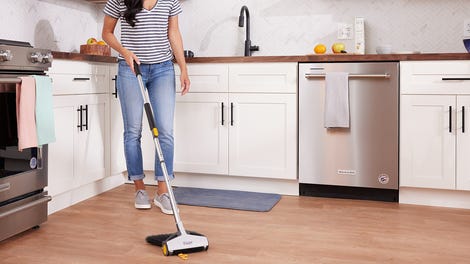 BOGO 50% Off
Flippr - BOGO 50% Off
But China was also responding to an incredible report from The Center for Strategic and International Studies and featured in the New York Times and elsewhere, showcasing new satellite images of a remote, tiny reef normally used by fisherman—which is now the focus of a massive infrastructural effort by China to turn it into a permanent island.
CSIS Asia Maritime Transparency Initiative / DigitalGlobe.
It's called Mischief Reef, and while it's only one of several reefs being turned into outposts by China, it's gives us a glimpse at how the process works. The circular reef sits about 500 miles from mainland China and 130 miles from the Philippine island of Palawan, making it incredibly remote—but also very valuable, since it's near one of the busiest shipping lanes on Earth and might also be sitting on oil reserves. This is hotly contested ocean, and many nearby countries have claims to it.
CSIS Asia Maritime Transparency Initiative / DigitalGlobe.
In its report, the CSIS's Asia Maritime Transparency Initiative says that in February, a Chinese "Amphibious Transport Dock" was seen near the reef. Shortly thereafter, dredging machines were seen using sand taken from the entrance of the reef to build up the "rim," widening the passage for larger ships into what is now a "chain" of fake islands.
By mid-March, "new structures, fortified seawalls, and construction equipment are present at several locations along the reef. Several dredgers are also present, and construction appears to be ongoing," the CSIS writes.
CSIS Asia Maritime Transparency Initiative / DigitalGlobe.

Out of nothing, an artificial archipelago is born. Maybe it's for shelter as China claimed today. Maybe it's to further China's claim to a very valuable patch of the South China Sea. Either way, it's probably not going to be the last "fake" island we see emerging out of this hotly-contested stretch of sea.
The scifi author Jack Williamson imagined terraforming as a way for humans to colonize other planets in the 1940s—but 75 years later, it's being used by humans colonize the ocean here on Earth.
All photos used with permission from CSIS Asia Maritime Transparency Initiative / DigitalGlobe.
[Asia Maritime Transparency Initiative; Reuters; New York Times]