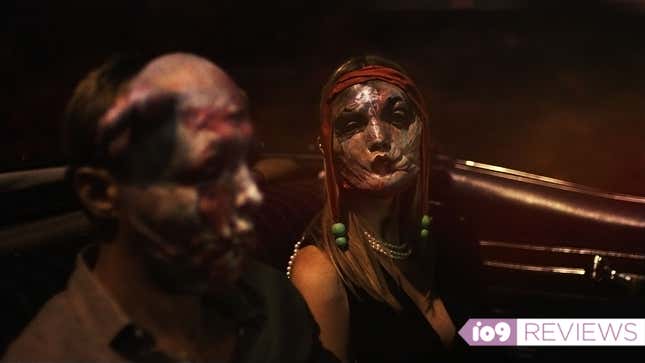 Of course io9 wants you to read this review, but Infinity Pool—the latest from Brandon Cronenberg (Antiviral, Possessor)—is one of those movies you shouldn't know too much about before you watch it. No spoilers here, but if you want to go in totally blind, you've been warned.

Set on a fictional island (Croatia provides the gorgeously scenic backdrops) at an exclusive resort, Infinity Pool introduces us to James (The Northman's Alexander Skarsgård) and Em (In the Shadow of the Moon's Cleopatra Coleman), who've been married 10 years and it shows. Em, a publishing heiress, is funding this getaway—as well as James' entire lifestyle, it seems, since he's an author with just one unsuccessful book to his name, and a case of writer's block preventing him from producing any kind of follow-up. The polite tension between them hasn't softened despite their glamorous surroundings.
But Infinity Pool is no mere tale of marital drama. From the get-go, the eerily rotating camerawork and ominous music telegraph that something very dark is coming, and the movie does not drag its heels getting to its first twist—which is mentioned with careful vagueness in its summary for the 2023 Sundance Film Festival, where the film premiered, but we won't be detailing it here. Though James and Em have been specifically told, like all the resort's guests, not to leave the property, they impulsively decide to visit a beach on another part of the island with a couple they've just met: Gabi (Mia Goth from Pearl and X), a flirty actress who specializes in "failing naturally" in TV commercials, and her architect partner, Alban (Jalil Lespert).
From the beginning, Infinity Pool slips in references to "the locals" that—taken with unsettling elements like that warning not to stray from the resort, which has a razor-wire barrier containing its borders, and the grotesque ceremonial masks used to celebrate the area's rainy season (available for purchase at the gift shop!)—may make you think you know where all this is going. Clearly, there's something on this island that tourists need to be protected from. But Infinity Pool pulls the rug out again and again, going down a trippy rabbit hole (people with strobe-effect aversions, be warned) that's gruesomely violent and consistently shocking, with some very clever plotting that backs everything up.
In his career so far, Skarsgård has shown a knack for playing characters that both make use of and subvert his handsome appearance, and this is instantly up there as one of his best performances. Goth had a huge year in 2022 with X and Pearl—the third film in her series with Ti West, MaXXXine, is due later this year—and Infinity Pool will only serve to elevate her further.
If you've gotten this far, don't read anything else about Infinity Pool before you see it! Fortunately, you'll get your chance very soon: it hits theaters January 27.
---
Want more io9 news? Check out when to expect the latest Marvel, Star Wars, and Star Trek releases, what's next for the DC Universe on film and TV, and everything you need to know about the future of Doctor Who.