Facebook, in attempts to crack down on fake news and other content, has somehow made news organizations its enemy. Just one day after Facebook was criticized for rejecting a promoted post from the nonprofit investigative journalism outlet Reveal, Instagram has now reportedly removed a video from ProPublica's account.

Lucas Waldron, a social visuals and graphics producer at ProPublica, noted on Twitter Thursday afternoon that Instagram removed a video uploaded by the publication on October 2017. The video showed footage of violent protests and identified members of white supremacists groups.
Per Waldron, Instagram did not provide an immediate explanation as to why the company removed the video, or why it waited eight months to take action against the particular clip. Gizmodo reached out to Instagram for more information about the video's removal but did not hear back. We will update this post if we receive a response.

While the video was removed from Instagram, it is still available on YouTube on ProPublica's official account. The four-minute video highlights a white supremacist group called the Rise Above Movement (RAM) that is based in California. Throughout the video, ProPublica highlights the ideology of the hate group and outs some of its members, providing names, hometowns, and criminal records.
In Instagram's community guidelines, the company notes that it will remove content that includes "personal information meant to blackmail or harass someone." It would seem like a stretch to argue that ProPublica's video would amount to blackmail or harassment, though it's possible the video was reported and Instagram removed it first before reviewing it.
G/O Media may get a commission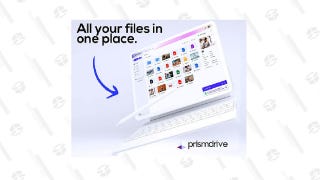 Save 97%
Prism Drive Secure Cloud Storage: Lifetime Subscription
Late Thursday evening, Waldron said a spokesperson from Instagram contacted him and said the takedown of the video was an accident. "We removed [the videos] by mistake and they have been restored," the spokesperson said in an email to Waldron. "We have also taken steps to prevent this from happening again." Instagram didn't detail how the mistake happened or what guardrails it put in place to prevent it from happening again in the future.
The case of the apparent accidental takedown comes hot on the heels of Instagram parent company Facebook preventing Reveal from promoting an article about a lawsuit against an immigrant children detention center that allegedly injected kids with drugs. Facebook's system rejected Reveal's post as "political content."

According to a report from ProPublica earlier this month, this has been an ongoing issue with Facebook as the company tries to clamp down on political advertisements and fake news stories that permeated across the platform during the 2016 US presidential election. A number of news organizations have been punished by the platform for sharing supposedly "political" content, while some political ads have managed to slip through the cracks of the company's automated system.

The issue all seems to stem from Facebook's new policies meant to crack down on political advertisers that went into effect earlier this year. The new rules prevent publishers from boosting political endorsements or "issue ads" that related to "political topics that are being debated across the country." Facebook uses a pretty broad definition of "issue ads," including topics like abortion, civil rights, health, immigration, and the extremely vague "values."
So far, Facebook's rollout of the policies appears to be pretty uneven. As the company tries to stop the promotion of provably false information, it's currently also blocking the spread of legitimate news, as seen in the cases of ProPublica and Reveal. Just how Facebook will clean up its own mess, made primarily by not caring about these issues until it was too late, is yet to be seen. But the company has a lot of work to do, and the 2018 midterm elections are right around the corner.