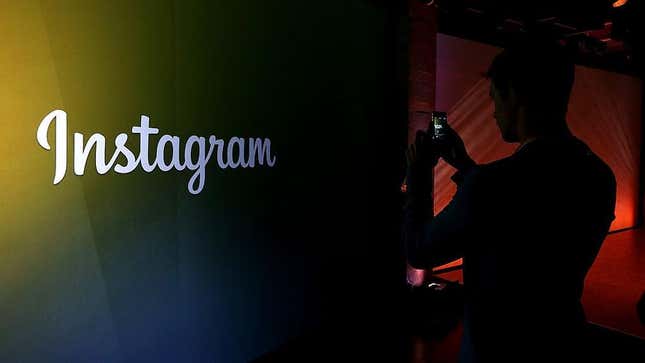 Instagram is bringing more competition to Twitter with its new text app that may become available as soon as the end of June. Sources familiar with the matter told Bloomberg that Instagram's parent company, Meta, has been quietly testing the app with celebrities and influencers for several months.
Nobody's Really Watching Reels
Meta confirmed it is moving forward with the app's development but did not specify an exact release date, and a company spokesperson told TechCrunch, "We're exploring a standalone decentralized social network for sharing text updates. We believe there's an opportunity for a separate space where creators and public figures can share timely updates about their interests."
When asked for comment by Gizmodo, a spokesperson said the company has nothing to share at this time.
The app is currently identified only by its codename, P92, Project 92, or Barcelona, with the tagline, "Instagram for your thoughts." The app will be separate from Instagram, but like Facebook, it will be linked to its sister app, allowing users to automatically carry over their handle, bio, and existing followers, according to digital media marketing expert and strategist Lia Haberman. Instagram's Twitter-like app will allow users to text up to 500 characters, and attach links, photos, and videos up to five minutes long.
Based on initial reports, Instagram's text app appears to simply provide an alternative to Twitter, which has come under scrutiny for pushing misinformation and creating a harsh work environment since Elon Musk took over the app last year. Meta's idea to create a competitive app that may drive those fed up with Twitter to their app instead is nothing new, as other companies have recently launched similar apps like Mastodon, T2, and Bluesky, which is currently still in its Beta testing phase.
Twitter founder and former CEO Jack Dorsey backed Bluesky's creation, and its beta test launched last week, prompting a surge of applicants to add their names to the profile waitlist. Users get an invite code every two weeks and the excitement for Bluesky was such that some people have listed the codes on eBay, selling them for more than $100 in some cases.
While Instagram's Twitter alternative may create a buzz that will detract from the following Bluesky has received since its launch, Meta's reliability for pushing new apps has historically been hit-or-miss, such as with its TikTok-like app Lasso, its Cameo-style app Super, and Neighborhoods – which was an alternative to the widely popular Nextdoor app.
"Historically, we know Meta likes to sample and recreate features from other apps and third-party tools based on what they anticipate being popular with their users," Haberman told Bloomberg. She added, "Based on Meta's track record borrowing from other platforms, it's much more likely they'll get there first by consolidating all these experiences they're building."