It's that magical time of year again, when everyone expects a new iPad to be right around the corner. Which in turn means an amassment of iPad 3 rumors clogging up our lives. Here's a quick guide to making sense of them.
Take all of these with the usual large piles of salt grains. Oh, and remember: The iPad may only be two years old, but it's already such an institution that any radical shifts in design or philosophy are almost definitely out of the question (sorry, 7-inch believers). But that doesn't mean we don't expect see some significant changes both inside and out.
Display
One of the iPhone's most beloved features is its ultrasharp retina display. And while the iPad 2's screen is no lightweight, a bump up in pixel density is one of the most hotly anticipated iPad 3 improvements. MacRumors claims to have obtained an iPad 3 display that confirms the bump in resolution. The display is the same size as iPad 1 and 2 screens, but has double the resolution at 2048x1536, with pixels about a quarter the size of the iPad 2's.
Android tablet displays passed the iPad last summer, and since then have moved into 1080p territory, so it seems far fetched that Apple would put off upgrading the iPad's screen another year.
G/O Media may get a commission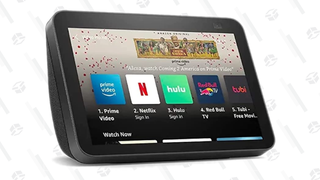 Guts
It's extremely unlikely that anything other than a superfast new A6 chip will power the iPad 3, as Bloomberg and others have reported. The main question at this point seems to be whether that A6 will pack quad core power. On one hand, competitors like the Transformer Prime have moved on to quad core chips, and the incredible gaming and HD movie processing heft that upgrade entails. And both BGR and Bloomberg have recently reported that the A6 will indeed be quad core. But for what it's worth, Apple has shown in the past that it's willing to stand pat if it feels a spec is more than good enough for the next generation, like it did with the iPad 2's 512MB of RAM.
Speaking of RAM, if we're going to take the retina display rumors seriously, it would make sense that the RAM would finally see an upgrade in the iPad 3. The iPad 2's 512MB, like the iPhone 4S's, was buffered by the symbiotic relationship between software and hardware. But it stands to reason that the brute force required to push the massive number of pixels a 10-inch retina display would require a memory upgrade. File that under pure speculation.
Update: While we'd originally thought we would see a new A6 chip, we're leaning toward an A5X update. What does that mean to you? Not too much, aside from a break in Apple's chip-naming structure. We were never certain that we'd see quad core in this generation, and that's looking less and less likely at this point. Expect to see a linear-but-noticeable bump in performance and efficiency.
There are also multiple reports that the new iPad will have 1GB of RAM, which is a bit "duh," but hey, good to know.
Camera
iLounge cited several sources saying the iPad 3 will have an HD front-facing camera for HD Facetime. This would make a lot of sense, considering that quality front-facing cameras have found their way into phones like the Lumia 900, and people use their tablets for video chat much more than their phones.
It's worth mentioning here that while many of these hardware upgrade rumors seem inevitable, we thought the same about the whoops-that's-not-happening-iPhone 5. So keep that enthusiasm curbed until the official announcement.
Network
BGR recently leaked debug screenshots of what it claimed was proof of both that fancy new A6 processor and global 4G LTE, and Japanese blog Macotakara reported similar network details around the same time. Bringing LTE to the iPad before the iPhone would make sense, because the iPad's larger battery can handle the 4G drain. Then again, a 4G iPad would almost certainly portend a 4G iPhone this summer, and it's not at all clear that Apple considers the network mature enough to hop on just yet.
Update: iMore, who's emerging as a reliable Apple rumor source, is reporting that the iPad 3 will indeed come with LTE.
Siri
iOS 6 is still a long way off, but the iPad 3's software warrants a quick mention because it might be the first non-iPhone 4S Apple product to get Siri, as some details in the iOS 5.1 beta reference the iPad in Siri Dictation.
Availability
AllThingsD has reported that the iPad announcement will come in the first week of March, but didn't specify when it would be released. For reference, the iPad 2 was announced on March 2nd of last year, and available on the 11th.
For whatever what it's worth though, two European Amazon sites had iPad 3 instruction manuals slated for a March 29th release.
Update: According to 9to5mac, the iPad 3/HD will be out on March 16th. The Friday-following-the-event timing jibes with last year's timing.
Update: Apple has officially set March 7th as the date for the announcement. The actual device will presumably be on sale soon after.
Design
The one thing that's almost certainly not changing about the iPad is its overall look. Apple's had wild success with the size and shape, and there's no reason to rock the boat now. The WSJ has said that the company is testing out an 8-inch counterpart, but it almost certainly won't become an actual product. The only changes that could happen would be a very slightly thicker build if it needs to compensate for a retina display and/or a larger battery.
Otherwise? Take a guess.
Update: After taking a closer look at the image in Apple's announcement for the iPad 3, we're almost certain that the iPad will have a retina display. Additionally, because the image appears to be taken in portrait mode, it seems like it may not have a home button either.
Update 2: MIC Gadget collected the scattered bits of "iPad 3" components that have been leaking here and there, and assembled what it claims is a to-scale shell of the next iPad. The takeaways? If the model is accurate, the iPad 2's Smart Cover will still work with the iPad 3, and the iPad 3 is evvvvver so slightly thicker than last year's model.
Name
Some unsubstantiated rumors had been floating around that the next iPad 3 might be called the iPad 2S. But there's a more interesting bit out there now that it might actually be the iPad HD, based on factory numbering from Griffin.
Update: CNET and Venture Beat are reporting that the name really is iPad HD.
To find out all things iPad HD as they're unveiled in real time, ride along with us on our iPad HD Liveblog this Wednesday, starting at around noon EST.