Victoria's Secret: Jesus liked it so much he made this video. It left him with these questions:
• How the hell did this ton of softcore porn pass Apple's stupid censorship rules? Are girls in lingerie OK when you want iPad users to buy lingerie?

• How many iPad users downloading the app are actually going to buy lingerie using this fapp-fapp?

• Does Apple get a cut on every bra and garter belt sold? (Just joking. Kind of. Hmmm...)

• When is Victoria's Secret actually going to sell lingerie that is not crap?
Free, so get to it.

Yojimbo for iPad: Says Matt, Yojimbo's number one fan:
I loved Yojimbo-a collect-everything app for Mac-a lot. It stores anything from bookmarks to software serial #s to images. But it's totally local database stuck on your Mac. I wanted portability. Now, there's Yojimbo for iPad.

It's a companion app for the desktop Yojimbo that syncs over Wi-Fi, so you can go through all of your data on the iPad and share it. Unfortunately it's read-only at the moment, so you can't create new Yojimbo items. I'm still waiting for a version that's a little more cloud-oriented, so it's backed up and I can use and access it on any Mac or from my iPad or iPhone, but this is a nice first step.
$10
G/O Media may get a commission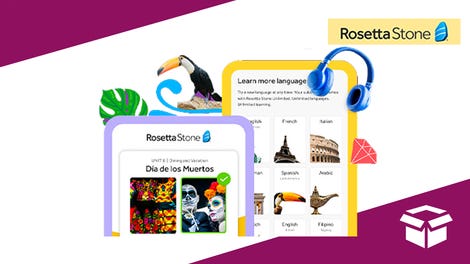 Extra 20% off
Rosetta Stone Lifetime Subscription - All Languages

Etch-a-Sketch HD: The wait is over! Now your kids, like you before them, can have the frustration of not being able to draw circles. Kat, sketch us a picture:
Considering the iPad is the perfect size for creating artwork your Mummy would've stuck on the fridge 20 years ago, it's surprising it's taken this long for an official Etch A Sketch HD app. Those wasted Etch A Sketch cases...

Sure, iPhone users have been twiddling knobs for years, but finally iPad owners can do the app justice. Not only can you create sketches from scratch, but you can even import your own pics from the Photo Album and draw all over them-then upload them to your Facebook profile. It's $3, but be careful when shaking the iPad clean.
$3

PLEXXR: A neat puzzle game with an extraterrestrial twist. The puzzles themselves are good and well but it's the ambiance—super slick alien graphics and animations and a fitting soundtrack make it a pretty immersive experience. I always feel like I'm in the future when I'm using my iPad anyway, so it might as well be a future where I'm chillin' with some aliens solvin' some puzzles. $2