Steve Jobs famously shunned the idea of an iPad Mini. (He was kind of right.) But what about an iPad Mega? What about a bigger, better iPad for people who want more out of a tablet? Obviously, iPad Mega is a terrible name, but it's not a terrible idea. Whether you call it the iPad Pro or the iPad Air Plus, this thing could be real.
Check out Gizmodo's Liveblog of Apple's big event here.
Let's talk this through. Rumors for a larger iPad have been around for years. However, the rumor mill started grinding a lot faster after Apple announced the arrival of iOS 9 and SplitView, a mulitasking feature that would work wonderfully on a larger display. Then, when beta testers figured out that iOS 9 included code that let you access a larger keyboard, it seemed even more certain that a new member the iPad family was on the way.
But there's a lot we don't know, so let's start with what we think is coming.
What will it be called?
There are two main camps in the debate over what to call a bigger iPad. Back when rumors of the device first started brewing, everyone thought it would be called the iPad Pro, much like its extra powerful counterpart in the Mac line, the MacBook Pro. After Apple released the iPhone 6 and its big brother, the iPhone 6 Plus, some started to think that Apple would franchise this naming scheme and release something called the iPad Air Plus. That seems like a bit of a mouthful, and also, having Air and Plus in the name seems contradictory.
G/O Media may get a commission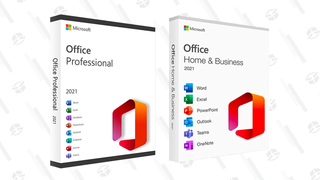 89% off
Microsoft Office Professional 2021 Lifetime License
All that said, Apple does like to keep things simple. Why not just call the new device the iPad Plus? That's sort of a natural compromise between the two rumored names, and it sums up the product pretty well. (It's a big iPad!) However, it's not really a name that many people are talking about. iPad Pro remains the front-runner in the debate. So let's go with that, for now.
Design
The rumored iPad Pro will be bigger. That means a bigger screen and more real estate to do creative things like paint pretty pictures or annotate a presentation. The tablet itself is expected to follow the iPad Air's form factor with thin bezels and a super slim aluminum chassis. Leaked industrial renderings put the thickness at 7.2-millimeters, just a hair thicker than the iPhone 6 Plus's 7.1-millimeters. In inches, those renderings show a device that's 12 inches tall, 8.76 inches wide, and 0.28 inches thick.
As for the display, there have been conflicting reports about whether it will be share a screen size closer to the 13-inch MacBook Pro or the new 12-inch Macbook. When iPad Pro rumors first surfaced two years ago, several reports claimed that it would sport a 12.9-inch Retina display, a hefty boost from the 9.7-inch iPad Air. Rumors have recently cropped up that it would feature a 12.2-inch screen. Reliable sources like Bloomberg and The Wall Street Journal, however, are standing by that 12.9-inch number.
Pretty much everything else will resemble the current iPad Air and iPad mini designs. That means a camera on the upper righthand corner of the rear casing and a power button near that. Volume buttons are also expected to stay on the righthand edge and the Lightning port should stay on the bottom edge. But! Multiple people report that the new device will have two speakers on the top right and left edges in addition to the two on the bottom edge—for iPad Pro dance parties.
Specs
While the design adjustments are relatively minor, some rumors suggest that the iPad Pro could come with some seriously exciting new features. Chief among them would be the much discussed stylus that would come as an optional accessory. KGI Securities analyst Ming-Chi Kuo, who's typically a reliable source on Apple rumors, reports that the stylus will be Bluetooth-enabled and work with a ForceTouch-enabled, high-resolution touchscreen (probably featuring a 2,732-by-2,048-pixel display). This could enable pressure-sensitive input as well as more accuracy. It's too soon to tell if Apple is aiming to make the iPad Pro a competitor to the ubiquitous Wacom interactive pen display. However, tech like the pressure-sensitive Sensel Morph tactile interface show how this category of device is starting to get very interesting.
A rendering of the iPad Pro and concept stylus by Martin Hajek
Otherwise, the iPad Pro looks like it will be getting a lot of the same specs as the iPad Air 2 and some of those in the rumored iPhone 6s. That should include the extra fast 802.11ac Wi-Fi antenna, LTE advanced (in cellular models), and M7 comotion processor as its smaller sibling, though it's entirely possible that Apple will release an updated version of the chip. Rumors also suggest that the iPad Pro will get 2GB of RAM, just like the Air 2. Touch ID and a FaceTime camera also seem likely. The iPad Pro might feature NFC technology as well, though that seems less certain
One big bump could be the main processor which will reportedly be the crazy fast and efficient A9 chip that's also supposed to power the iPhone 6s. The Wall Street Journal reports that the big new iPad Pro will also include a USB 3.0 port which would come in handy when hooking up to peripherals or transferring data. Since USB 3.0 can transfer data ten times faster than existing USB technology, this could be a pretty awesome addition. A reportedly leaked iPad Pro dummy shows that this port could be on the side of the device:
All that said, the big reveal would almost certainly be an Apple-designed stylus. Even though Steve Jobs preferred using a finger over some high-tech pen, Apple has several patents for stylus-like devices and an increasingly big body of rumors suggests that Force Touch and an accompanying stylus could make the iPad Pro much more than just a bigger iPad.
iOS 9
Thanks to Apple's first ever public beta program for iOS 9, the latest mobile operating system has been in the wild for a few months now. Many of the improvements are under-the-hood upgrades like better security and privacy. New features will include a smarter Siri thanks to Proactive Intelligence, software that anticipates what you'll want to do with your device before you do it. Otherwise there will be some neat tweaks to Maps, Notes, and a new app called News.
The upgrade that will invariably make the biggest impact on the rumored iPad Pro, however, are the many multitasking features that Apple's already shown us. Things like SplitView and picture-in-picture options should look fantastic on the larger display and will surely entice enterprise customers to choose an iPad Pro over, say, a Microsoft Surface. All that said, there's evidence in analytics logs that the iPad Pro will launch with iOS 9.1 so there may even be some new features we haven't seen yet.
How much will it cost?
Nobody seems super sure about how much this magical new super tablet will cost. However, if Apple follows its usual pricing scheme for larger sizes of existing devices, it could start at $600 for a Wifi-only devices with the smallest storage option. (There's some debate over whether or not Apple is going to make 64-gigabytes that base unit, but again, there's not a lot of evidence either way.) That's $100 more than the current entry-level iPad Air 2.
Following that rubric, the Wifi + Cellular model would start at $730. That would mean that a maxed out iPad Pro with the most storage and both connectivity options could cost as much as $930. It's unclear if the stylus would be included or sold separately. It's even more unclear what it would cost.
When will it be available?
This one is also up for debate. A number of sources believe that Apple will announce an update to the iPad line at September's iPhone event. That announcement could include a peek at the iPad Pro, but the detail about it coming with iOS 9.1 installed suggests that the device won't actually hit stores until later this fall. Either way, it seems reasonable that you might be able to ask for an iPad Pro for Christmas. It'll be like the Furby of 2015—a new toy for your loved one who has everything and is certainly sold out everywhere.
Illustration by Martin Hajik / Gizmodo
---
Contact the author at adam@gizmodo.com.
Public PGP key
PGP fingerprint: 91CF B387 7B38 148C DDD6 38D2 6CBC 1E46 1DBF 22A8